At the ever demure Art Basel festival in the humble township of Miami, Florida, it appears Heiress Paris Hilton and LSD Duchess Miley Cyrus and um, Mr. Freeze's son had one helluva time that has thus far consisted of making out with each other and strippers.
After a Moschino Barbie party on Thursday where Paris DJed, the trio of rich white progeny of rich white people headed to a half-burlesque, half-strip club, where Schwarzenegger dropped $10K, some of which landed on Miley from what I can gather. Somewhere during all this Miley Cyrus and Paris Hilton made out, which I'm sure is someone's fantasy somewhere. [TMZ/E!]
---
Merry Christmas to the Breaking Bad Bro Brigade:

---
G/O Media may get a commission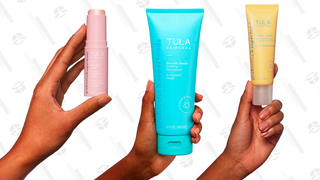 Henry Cavill and Gina Carano broke up again, and there's a chance he's rebounding with a 21-year-old woman who hunts. Like, hunts animals. This is weird for many reasons, one of which is that Henry Cavill has been repping the animal lover/conservationist gig for a while, so dating someone who posts pictures of herself with dead animals seems odd probably. [Celebitchy]
---
Kelly Rowland's mother Doris Rowland Garrison passed away last Tuesday at age 66. [Daily Mail]
Megan Fox (the actress, not the creationist) and Brian Austin Green were driving near Mulholland Drive when they were sideswiped by a drunk driver in a Mini Cooper. They're alright, but I'm not alright with Mini Coopers in America. It just doesn't make sense to me. [TMZ]
Bob Geldof banned Paul McCartney from the "Do They Know It's Christmas" remake because Band Aid and patronizing people in Africa with a shitty song is really about them. [Contact Music]
Halle Berry was right. There is proof that Nahla's hair has been bleached and chemically treated even though Gabriel Aubry denied ever doing such a thing. [TMZ]
Mariah Carey thinks the "leaked" low-quality audio of her tree-lighting performance was an act of revenge by NBC production techies for her bailing on the pre-recording session. [NYDN]
UP TV, originally Gospel Music Channel, has put 7th Heaven back on the air. [TMZ]
George Clooney has been reunited with his long lost love: the Caesar haircut. [E!]
If Iggy Azalea lost every Grammy to Sam Smith, she'd be fine with it. I have finally found something I have in common with Iggy Azalea. [E!]
Saturday!
Lede images via Getty. Additional image via AP.