The quitter's life looks pretty sweet for Sarah Palin, who now has over 1,070 invitations for speeches and appearances. But first she has to finish her book — which, unsurprisingly, will include a lot of sports anecdotes.
Since her history-making, Ashley-Judd-bashing resignation speech, Sarah Palin has received 950 invitations to bring her dead-fish metaphors and MacArthur misquotes to audiences around the country. She'll get a six-figure fee for paid speeches, but will also work pro bono for Christian groups, military families, and families of special-needs kids (look out for lots more talk about death panels). Palin has also received requests for appearances from 120 candidates for state and national office, who clearly think a mix of incoherence and misinformation is a recipe for success. Worked for Bush!
The Washington Speakers Bureau, which represents Palin, will start responding to invitations this week. But Palin won't be accepting any of the (shudder) TV pundit jobs she's been offered until after she finishes her book, which is supposedly about 85% done. According to her dad Chuck Heath, the book will discuss Palin's storied career as a point guard. He says she's been emailing him with questions about "trivial things like maybe a basketball game, 'How many points did I score here?' 'When did we go to the Boston Marathon?' … Mainly sports." She also asked him, "Oh, what happened on June 13, 1978?"
We figure Sarah Palin's talking about, say, some teenage fun-times here, and not Israel's withdrawal from Lebanon — but she is boning up on foreign policy. Kind of. The AP says she'll be traveling to Hong Kong on September 23 to speak before the CLSA Investors Forum, "a well-known annual conference of global investment managers." Of course, Palin isn't an investment manager, but organizer Simone Wheeler says, "Our keynote speakers are notable luminaries who often address topics that go beyond traditional finance such as geopolitics." So not only is Palin now a "notable luminary," but her resignation as an Alaska politician has freed her up to be a geopolitician. And her Hong Kong visit suggests she's doing exactly what supporters hoped she would — traveling the world to get more exposure and experience in order to bolster a possible 2012 presidential run. If only she'd stuck to sports.
G/O Media may get a commission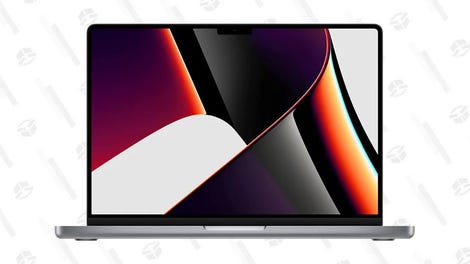 Save $300
2021 14" 1TB MacBook Pro
Sarah Palin Making First Trip To Asia In September [AP, via Washington Post]
Sarah Palin Gets 1,070+ Invitations [Politico]
Sarah Palin's Dad Says Palin's Busy Writing Her Book [Politico]