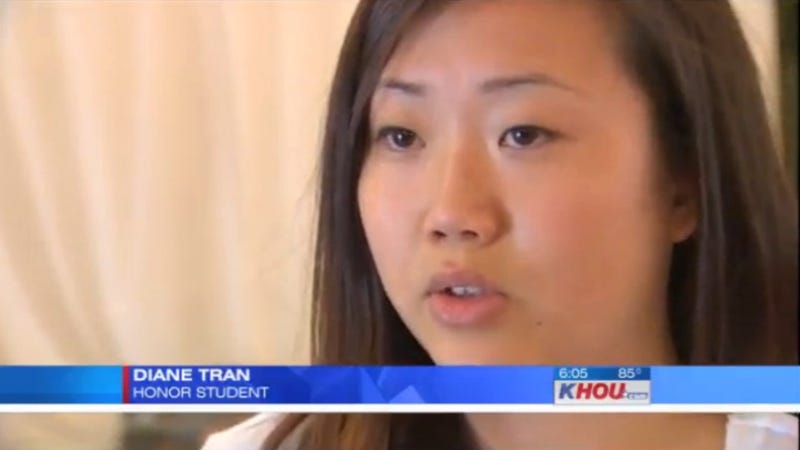 Diane Tran, a 17-year-old junior at Willis High School in Willis, Texas, is hardly an underachiever, but the unfortunate example being made by the state's truancy violation policies. Tran, whose parents divorced unexpectedly and left town, is supporting two siblings (although reports are that one of them is an older brother at Texas A&M; unclear why he isn't helping support themselves as well?) with two jobs: a full-time and part-time job in addition to school, which constitutes a regular spot on the honor roll as well as multiple AP classes, which means she sometimes misses roll call and is often too exhausted to go to school. She would like to be a doctor someday.
Judge Lanny Moriarty of Justice Of The Peace Court, who assigned the punishment to Tran, said that he warned her last month not to miss any more classes, exhaustion notwithstanding; when she was unable to comply, he arrested her in open court, sentenced her to 24 hours in jail and slapped her with a $100 fine. As Moriarty told the press, "If you let one [truant student] run loose, what are you gonna' do with the rest of 'em? Let them go too? A little stay in the jail for one night is not a death sentence."
Unsurprising, then, that in the face of this lack of empathy, Tran has won over the public with a tearful interview on Houston news station KHOU-11:
Tran has received widespread national support on Facebook and angry letters on behalf of the teenager to the station; she lives with the family of her part-time employers, who are now working on setting up a fund in her name at a local bank, reports KHOU.
'Texas honor student thrown in jail for missing school' [NY Daily News]