This episode was literally titled, "Not in Scotland Anymore." It was basically a whirlwind tour of 1740s Paris designed to introduce all of Outlander's new players for the scheming that's about to ensue. Also, lots of fancy dresses in dizzying patterns covered in ruffles. And the odd bare breast sporting a nipple piercing!

Naturally, as part of our introduction to this world, we meet several new characters. Unfortunately we did not meet Claire's dressmaker, who deserves her own reality show. Look at this amazing cross between 1740s France and "New Look" Dior.
This looks riding-habit inspired, though it seems like there'd be a lot of bounce. Nevertheless, very impressive.
G/O Media may get a commission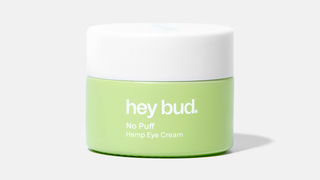 15% off
Hey Bud - No Puff Hemp Eye Cream
And best of all:
The woman is managing to make her way around 18th Century Paris without so much as a single skirt flounce. It's a miracle, really.
The first of the new players was Bonnie Prince Charlie himself. His tangerine coat was very effective, because nothing says "I'm fundamentally unserious and will lead the Highlands to disaster" than arranging a political meeting in a French brothel wearing a tangerine coat.
The prince wants Jamie to go shake some funding for the Jacobite rebellion out of the French government. Our plotting trio figures it needs to find the French minister of finance and convince him that Scotland is a bad bet. And so Claire wrangles a trip to Versailles out of her amusing new friend, Louise de Rohan, and we get to see that stunning red dress featured in the Season 2 promo materials. It looked even more daring in action; a bold move for an era before double-sided fashion tape. It's also interesting to note that the other character who stands out for her relative simplicity of costume is Mary Hawkins, Claire's shy fellow Englishwoman.
Claire and Jamie do manage to make an ally of Joseph Duvernay, the French minister of finance, when he puts the moves on Claire and they promise not to tell his wife. But not before they bump into Jamie's ex, who appears to be wearing a sofa.
We also meet Louis XV, the king of France, as he is being coached through a terrible case of constipation by a bunch of advisors. (Jamie steps up to advise porridge.) But look how majestic his shitter is! Truly it is good to be the king.
Most importantly, we meet the king's mistress, Madame Nesle de la Tourelle, and her nipples.
This particular look is taken right out of Dragonfly in Amber and has been long-awaited by die-hards. Costume designer Terry Dresbach told Vanity Fair all about it:
It was hard to find reference material for it, and we weren't able to locate a lot of paintings where women at that time had pierced nipples, so we sort of leapt and went with the books and tried to get as close to it as we could creating it ourselves. It was difficult. There's no jewelry store that sells it. Those nipple rings were created on my kitchen table out of Fimo clay. There were many, many attempts to make swans that would completely do what they needed to do. It's one of the most interesting jobs I've had in my career.
She added that it's one of the most intricate looks of the season: "When people get over looking at the nipples—our fans watch each episode three or four times—they'll see that gown is very ornate, very couture, as would be appropriate for the king's mistress. That dress would have cost a fortune to make and the detailing on it is really quite exquisite." It's a real showstopper, all right.
Fun fact about Madame Nesle de la Tourelle, by the way: Not only would she be mistress to Louis XV, but so would three of her four sisters at various points. You'd probably resort to breast-baring dresses and nipple jewelry, too.
I'll leave you with one last question to ponder: How did Claire resist snatching the Duke of Sandringham's wig and tossing it into the fire when she found out that Black Jack Randall was alive?

---
Top photo courtesy Starz, other images via screencap.