Here's a question: Out of all the stuff that gets adapted for movies and television every year, why don't more romance novels get picked up?
This occurred to me while watching the trailer for Jupiter Ascending. I initially got excited about this movie, because it looked like a very expensively filmed paranormal romance. Hunky space werewolf commando attaches himself at the hip to a suddenly galactically important regular girl? Sign me and a whole bunch of other romance readers up. If anything, it sounds like the final product was too self-important to stick to the person-meets-person plot that's worked just fine for literally millennia, spending too much time on space politics and being, like, so deep, man.
So why hasn't the entertainment business, which often seems hellbent on adapting every third-rate comic book character and fairy tale and Hasbro game, spent more time raiding the romance shelves?
Admittedly, there have been less-than-stellar attempts. Several generations of Harlequin execs have tried to make their movie business happen, and in 1994 Susan Lucci starred in a made-for-TV adaption of Sandra Brown's French Silk:
Lifetime also took a stab in 2007 and 2009, adapting several Nora Roberts novels. But, you know, Lifetime:
Perfectly enjoyable, perhaps, but not prestige moneymakers.
But two things are different now: Outlander, and Fifty Shades of Grey. Yes, I know that Diana Gabaldon doesn't consider her series to be romance, but it's pretty clear that the first book at least hews to many conventions of the genre and romance readers comprise a big damn chunk of her audience. And God knows Fifty Shades isn't my thing, but for the sake of argument here, we'll stipulate it's a romance in the technical sense of the term. (With the caveat that this book does not represent the whole genre and if anybody dares reduce the entire multi-various world of romance to Fifty Shades I will give you the dressing-down of your LIFE in the comments.)
G/O Media may get a commission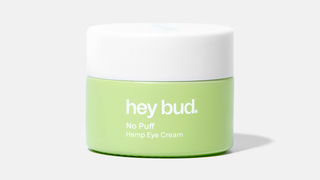 15% off
Hey Bud - No Puff Hemp Eye Cream
Two very different properties, but they're both looking like success stories. With Outlander, Starz finally has a break-out original series. And so far, Fifty Shades is tracking to be a box-office hit—on top of being cheap to make. This isn't particularly surprising, because romance readers are a loudly loyal bunch who will happily spend money on entertainment that caters to their interests. (BookStats says the market is $1.08 billion. And that's just straight romance, not mainstream stuff that romance readers are into.)
Besides, most popular entertainment includes some sort of romantic element. I'm not sure it's even legal to make a superhero movie without a love interest. Even snots who wouldn't touch a romance novel with a ten-foot pole enjoy a good love story. Shit, you think people really clung to X-Files after that befuddling black oil plot because they cared about the by-that-point-obviously-hopeless-discombobulated alien takeover storyline? Hell, no. People wanted to know whether Mulder and Scully were gonna move in together or what. Come on, the whole point of Die Hard is that this dude wants to work through his marital problems. It's practically about couples counseling.
And there are so many places to start. Here are some suggestions literally right off the top of my head, with zero research or effort beyond scanning my bookshelves for five minutes:
Jennifer Crusie's Bet Me, Welcome to Temptation, and Faking It are all rom-com gimmies. Surely somebody somewhere already holds the rights to the "In Death" series, Nora Roberts' novels about a futuristic detective and her rich-ass husband—make Mariska Hargitay an executive producer. While we're on the subject of Roberts, her books set on the Chesapeake Bay are Nicholas Sparks's novels set on the Carolina coast but a thousand times better. The Wallflower series by Lisa Kleypas would adapt nicely into a quartet of lush costume dramas in the style of The Young Victoria. You could easily create a Cranford or an Avonlea out of Loretta Chase's backlist. The Black Dagger Brotherhood! Almost anything by Susan Elizabeth Phillips! The Beyond series! If you want to chase the BDSM market: The Shadowlands series! HBO could easily tackle Joey W. Hill's vampire books. Shit, go meta and make a TV show about somebody who's clearly Fabio, or a movie about a thinly veiled Barbara Cartland or Janet Dailey.
Anyway, this is what Hollywood gets for being a sausage fest—money left on the table.
Photo via Getty.