Yup, we know: the site looks different today. Time to take a deep breath, strap ourselves in, and get ready to rumble.


Before we get into the whys of the resdesign, lets get into the hows.
On this screenshot of the homepage (click it to enlarge), you'll see a number of changes. Up top, new navigation tabs, a login prompt, and search field. Directly below that: the biggest change: A hybrid commenting/submission form. And below that, the site's posts, ordered, as usual, from most recent to oldest, but with subject headers (subheads) incorporating Twitter-style hashtags. ("Hashtags" are a fancy internet term for the "#" symbol.)



G/O Media may get a commission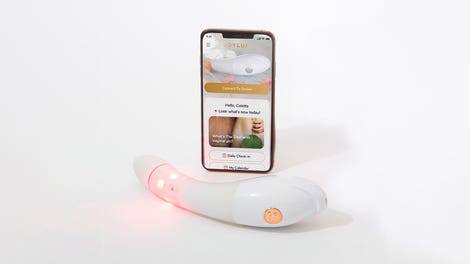 $50 Off
Joylux vFit Gold Device
The profile login remains the same, as does the site-specific search function (both are at top right). What's new are the navigation tabs (top left). There are four in all: "Jezebel" (to show all posts); "celebrity" (which will aggregate celebrity/entertainment-related posts); "sex" (self-explanatory); and "fashion" (if you have to ask...). Clicking on any one of these navigation tabs will allow you to customize the content you see, should you wish to do so.



Onto the commenting/submission box. This, obviously, is the biggest change...and the most revolutionary. The default message (or "prompt") in this box reads, "Let your fingers do the talking." Consider this an invitation to send us tips, comment on posts, or create new subject matter specific to your needs. In its "normal" state, the submission box looks like the one above. If you want to send a tip, comment, or create new content, click on "Share" and the submission box will automatically expand. What do you do now? Keeping in mind that this new feature is based on Twitter-style hashtags, any content that you type into the box will automatically be categorized - as long as you use an accompanying hashtag below the submission. So, to submit, say, a story tip, type in your tip, then include the hashtag #tips (conveniently, it's also the default hashtag) directly beneath it, and it will show up here. An example - based on a fantasy we'd love to see come true - below. (You can also use your own tags. Got something to say about Megan Fox? Send it to the #meganfox page.)



After you're done completing your submission, just click on "share" and your information - we're talking text, images or video - is good to go.



Next up: Reply notifications. We know that many of you have been waiting for this feature for some time, and we're thrilled to announce that it's finally in effect. What this means: When you're signed into your commenter profile, a notification will appear above the top post alerting you to any and all replies to your comments. Bellissima! You'll also notice that most replied to comments are not appearing to the right of posts; this is on purpose, because these sorts of comments will be featured within the flow of the site (meaning: in between editors' posts) throughout the day.
Now that you know the hows - and there's lots of other tricks and tips we'll get into in a post later today - here's the whys: Gawker Media's stable of websites is moving towards a more "open forum" format: In addition to allowing readers to post tips, sightings, gossip, photographs, videos and other content via our new submission form, we're also essentially hosting 24/7 open threads - the name of our primary forum is "groupthink" (#groupthink) - where contributors can, well, hash out ideas, chat, vent and otherwise engage themselves outside of the daily roster of posts on the homepage. (No more weekend-only open threads.) Featured/unfeatured commenting will continue, as will our open tips line via email, still the safest and most secure manner in which to send in gossip/ideas anonymously. (Note: If you're not an approved commenter, your posting has to be approved by an editor, moderator, or star commenter and the two-tier system applies to these tag pages, too. In addition, previous commenting rules still apply to all comments, whether on blog posts and hashtag pages.)
Obviously, change on this scale will take some getting used to. (Here's Nick Denton's particularly-dramatic take on the situation.) We encourage you to send us feedback - and technical problems/bugs you're noticing - via email (tips@jezebel.com) or in the comment thread of this post; we'll work on helping to get any problems fixed.