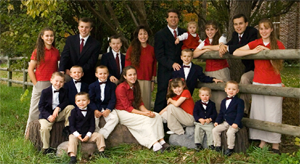 So you might've heard that ever since seeing Knocked Up, all we've been able to think about is how badly we want babies. Or, er, babies with Seth Rogen. And, like, right now. But then we came across the website of the Duggar family and our vaginas began hurting. Jim Bob and Michelle Duggar have SIXTEEN FUCKING CHILDREN and their 17th one is due in two months. More photos of the Duggar clan, after the jump.

The Jim Bob & Michelle Duggar Family Official Website
Earlier: Didn't Like "Knocked Up"? Screw You.