After centuries of dismissal as a heretic, a radical 17th Century nun is finally getting recognition.
Mary Ward, an English Catholic, joined the Poor Clare order of Franciscans at 15. But frustrated by the rigidity of the order, in 1609 she founded her own order at St. Omer. While most nuns were strictly cloistered and limited in their outside activity - by Church decree - Ward's was based on action: like the Jesuits, her order would be devoted to educating women and preserving the Catholic faith in Protestant England. She encouraged her nuns to abandon their habits and go amongst the poor. Oddly enough, one of ward's big issues was the theatre: she was aggressive in challenging the notion that women couldn't appear on the stage, and that those who were warranted scorn.
Although this was the height of the Inquisition, and progressive thinkers were being accused of heresy right and left, such was Ward's confidence in the Church that in 1631, Ward walked from Belgium to Rome to ask Pope Urban VIII for official recognition of her order. The Pope jailed ward and issued a Papal bull declaring that her order be disbanded. And, after a year in prison, Ward obeyed this edict, dissolving her revolutionary order and returning to England, where she died in the siege of York. Although something of an icon to English nuns, Ward remained persona non grata in the church until the 19th century, when a French nun's petition helped convince Pope Piux X that the case against her was unfounded. Pope Pius XI, opened Ward's cause for sainthood in 1932, and the Jesuit lobbying for the cause says that she will probably be named a "Venerable" (two rungs below sainthood) on the recommendation a panel of Vatican theologians within the next year.
Says a member of Ward's order, now known as the Congregation of Jesus and made up of 4,000 sisters, "She had a vision of the equality of men and women before God and a vision of the capacity of women to do good and to work for the kingdom of God...She had this at a time when universities were still discussing whether women had souls."
It should perhaps be noted that Dorothy Day, another firebrand whose adherents are pushing for canonization - controversial because of a history of civil disobedience, criticism of the Church and political action - was an admirer of Mary Ward, taking the title of her famous autobiography The Long Loneliness from a Ward epigraph. Both women are emblematic of a deep traditional faith interpreted according to conscience. And while recognition of Ward would, in 2009, hardly qualify as a revolutionary act, it would be one of good faith, long overdue.
G/O Media may get a commission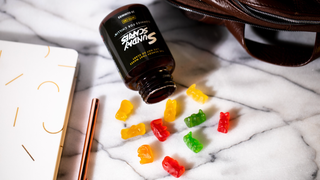 10mg CBD Gummies (22-Count)
The First Sister Of Feminism [Independent]
Mary Ward: Pioneer For Women In The Church [IBVM]
Mary Ward [Catholic Encyclopedia]
Mary Ward, Pilgrim and Mystic [Google Books]