As most Americans know by now, Oprah Winfrey has announced that she's "fallen off the wagon" and now weighs 200 lbs.
In a story which will appear in the January issue of O magazine, Oprah writes: "I look at my thinner self and think, 'How did I let this happen again?" She says she's gained 40 pounds since 2006, when she weighed 160. "I'm embarrassed," she says. "I'm mad at myself." I'm mad at you, too, Oprah. I wish you would shut up.
And a blogger named Elizabeth agrees with me: "Dear Oprah," she writes on Cahiers Du Moment. "DON'T EVER APOLOGIZE FOR YOUR WEIGHT AGAIN. I don't find it honest, I find it alternatingly heart-breaking and infuriating. Demeaning, obfuscating, angering. You don't owe anybody an apology for what your body size is."
Agreed! Oprah is one of the most powerful women on the entire planet. She is a media mogul, with heaps and heaps of money who spreads love, wealth, charity and understanding. People joke about it, but as a book critic, she made little-known authors into success stories; her influence changes lives. She was raped at the age of nine. She had a child at the age of 14, who died. She went from rags to riches. Why do we always have to talk about how much she weighs?
Look, I understand that her health is at risk. And that she has thyroid issues. Of course it is important for her to be healthy. And in her article, Oprah says it's not about getting thin; it's about being fit. "When it comes to maintaining my health I didn't just fall off the wagon. I let the wagon fall on me," she writes. "I didn't follow my own fundamental rule of taking care of self first." But the for a person who is, above all, an extremely successful business figure, why are we talking about her body? Maybe it's because she puts it out there. Or maybe it's because she's a woman? Do we ever talk about Harvey Weinstein's weight? Or how Vanity Fair editor Graydon Carter's love of cigarettes could kill him? As a female role model, does Oprah have to be apologetic about not sticking to her workout plan? And why is it that the woman who, let's face it — has everything — has to feel embarrassed about her body? Is it more important than her charity work, her years in broadcasting or her intelligence?
G/O Media may get a commission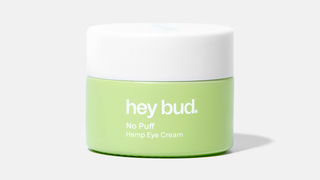 15% off
Hey Bud - No Puff Hemp Eye Cream
Of course, there's another issue here: Fat-shaming. With those two words, "I'm embarrassed," Oprah makes plus-sized people — and yes, that includes me — feel like they should be embarrassed, too. Because Oprah is amazing, and Oprah knows all. So if Oprah weighs 200 lbs. and is embarrassed then you'd better be ashamed of yourself if you're anywhere near or over that weight, right? It's such a nasty feeling from the woman who gleefully handed out cars. What happened to "Love what you've got," as her T-shirt demands? Something tells me that won't be the message of her emergency fat summit in January.
Oprah Winfrey Says She Weighs 200 Pounds [AP]
Oprah Balloons to 200 Pounds, Convenes Emergency Summit [Gawker]
Dear Oprah [Cahiers Du Moment]
Earlier: Overwhelming & Odd: Shopping Oprah's New Online Store