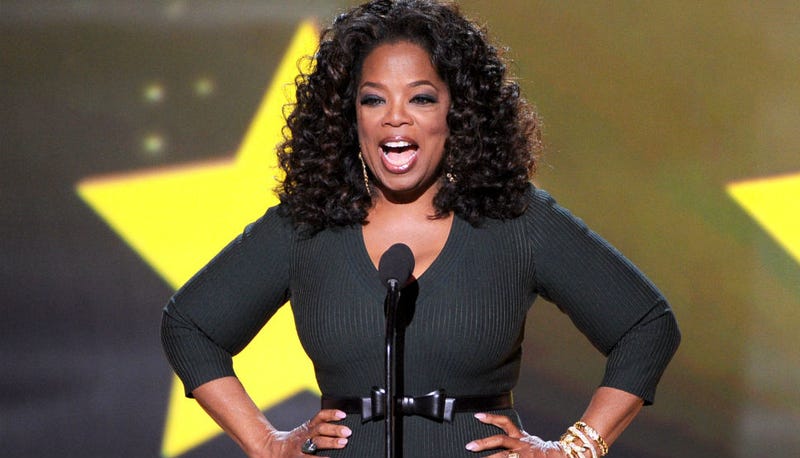 Is the Queen of Talk poised to become the next Queen of Broadway? According to the latest Broadway buzz (that is a fun term), Oprah is in discussions to make her debut in a Pulitzer Prize-winning play.
According to The New York Times, Winfrey would have a pretty amazing co-star, too:
Oprah Winfrey is in talks to make her Broadway debut in a revival of the Pulitzer Prize-winning play "'night, Mother," starring opposite Tony-Award winner Audra McDonald as a mother struggling to stop her daughter from killing herself, according to two theater executives familiar with the plans.
The Tony winner George C. Wolfe ("Lucky Guy") would direct the production, which is being aimed for the 2015-16 Broadway season. The two theater executives spoke on condition of anonymity to share details about a production that is currently confidential.
Play producer Scott Sanders confirmed he was having "discussions" with Winfrey. She reportedly read for the role with McDonald in Sanders's apartment. OMFGGGGG do you not wish you were a fly on the wall when that happened?
It wouldn't be the first time Winfrey has dabbled in the theater; she produced a stage version of The Color Purple on Broadway which ran from 2005-2008.
So far, no one from Winfrey or McDonald's camp is commenting on the possible casting news. If it is true, it would seem that Winfrey's been bitten by the acting bug lately, following her turn in Lee Daniels' The Butler. That's great news for everyone who remembers how good her performance was in The Color Purple alongside Whoopi Goldberg. Oh, what's that? You haven't seen The Color Purple. OK, stop reading this right now and go get yourself a copy of that film. We'll wait.
Image via Getty Images.