This is not good: über-cool hipster-y fashion chain Opening Ceremony's online boutique was hacked on February 16th, and the company didn't notice the malicious code until more than a month later, on March 21st. And even though it seems that the hackers "may have accessed the names, addresses, and credit card information of customers who purchased an item on our website during this period," according to the store, it chose not to alert customers to this fact until on May 4. Seriously? Three months after the fact, you see fit to let your customers know their credit-card data was compromised? What the fuck, Opening Ceremony? [ArtInfo]
---
If you haven't gotten enough of our Met Ball coverage, here are some TwitPics from the event and its assorted after-parties. Coco Rocha and Alexander Wang proved especially diligent Tweeters, with Rocha sharing photos of the exhibition, Zac Posen and Amber Heard making faces, and her pink hair extensions, and Wang Tweeting shots of the decor, Rihanna, Alicia Keys, and Azealia Banks. Fashionista has a round-up of those and other Tweets. [Fashionista, @AlexanderWangNY, @CocoRocha]
---
G/O Media may get a commission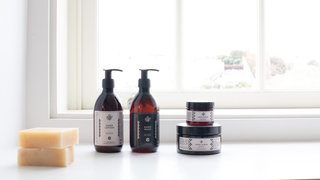 Exfoliate and Hydrate
The Handmade Soap Company
Rihanna, for example, Twitpic'd this photo of Lala Anthony's cleavage. To be fair, Lala Anthony's cleavage is very impressive. [@Rihanna]
---
Are you interested in a rare chance to see some Steven Meisel prints up close? Are you really, really rich? Potential collectors are invited to make an appointment at the photographer's studio to view a selection of prints currently offered for sale. [ArtInfo]
---
An Australian graffiti artist named R.J. Williams (no relation to the child actor, presumably) is threatening to sue Madonna for infringing upon his trademarked logo. Williams alleges that the logo used by Madonna's upcoming perfume and clothing line is too close to the logo for his company, The Massive Corporation, which he registered in Australia last year. [Toronto Sun, Above Ground]
---
Gisele Bündchen is the newest face of David Yurman. [The Cut]
---
Trina Turk is doing a summery capsule collection for Banana Republic. Coco Rocha is the face of the line. "The Slim Aarons photo of ladies having drinks at the pool has been an inspiration for our brand," says Turk. [WWD]
---
Brad Pitt is to be featured in the next Chanel No. 5 campaign. [E!, @Chanel]

Amazon is getting into clothing retail in a big way. Reports the New York Times:

Amazon's decision to go after high fashion is about plain economics. Because Amazon's costs are about the same whether it is shipping a $10 book or a $1,000 skirt, "gross profit dollars per unit will be much higher on a fashion item," Mr. Bezos said, and it already makes money on fashion. While its MyHabit site, started last year, uses a flash-sale model to compete with Gilt Groupe, Mr. Bezos says the company's new effort is not about selling clothes at deep discounts but at prices that ensure that "the designer brands are happy."

Brands are made nervous by this because of Amazon's sheer heft — in other categories, such as e-books, Amazon has already been able to set the de facto price that its competitors must meet. (There is a lawsuit ongoing about this, actually.) [NYTimes]

At the Met Ball, Rihanna told reporters she was "doing my own collection." Make of that what you will; she already has a deal with Armani Exchange. [HL]

Kanye West went stag to the gala, which is interesting considering he's been squiring Kim Kardashian everywhere and anywhere lately. (Including to that Chanel dinner.) Naturally, that's because of Anna Wintour, according to a "source" that spoke to RadarOnline (that sound you just heard was us calling for the world's biggest grain of salt). "Anna hates Kim," says said "source." "Why would she be invited to the event? It is all the biggest stars in the world and Kim doesn't fit that bill at all." [RadarOnline]

We have this report on the state of the Met Ball after party, from Women's Wear Daily:

It was a hot party, literally. At one point, gala cochair Carey Mulligan pulled open a window, much to the delight of her fellow English actresses Michelle Dockery and Laura Carmichael, who joined her for a smoke.

Alicia Keyes was the first surprise performance, but it took Azealia Banks (in a feline getup replete with whiskers) to really get the crowd going with some seriously wild dancing. Even Miuccia Prada herself couldn't resist the vibe. During Banks' porn-tinged hit "212," the usually more-reserved designer was seen tapping her foot along rhythmically.

Prada held hands with Patrizio Bertelli. And Suzy Menkes wore a crushed soda can in her hair "in the spirit of Schiaparelli's surrealism." [WWD]

Tom Ford spoke last night at the 92Y. He offered this advice to would-be designers: "If there's anything else in the world you'd be happy doing, do that instead. It's a tough, tough business." Ford also admitted that when he pursued acting after college, he had to do it under a stage name because there was already a Tom Ford who was a member of the Screen Actors Guild. Somewhere out there, he says, are commercials he starred in under that assumed name. Ford also has this advice: "Only hire people you want to have dinner with." [Fashionista]

Philip Treacy says that he likes designing hats not in spite but because of the fact that hats are largely considered an accessory of the past. "Hats are about another dimension of passion about dressing up. You have to wear shoes, you have to wear clothes, but you could spend your whole life without wearing a hat. I quite like the fantasy aspect of hats because it's about self embellishment. We all have a head and everyone has the potential to wear a hat. And they've really changed from being conformist accessories to an accessory of rebellion. So, I make hats for the rebels of the world. And I like that, a lot." Treacy also says he doesn't like the word "fascinator"; to him, a hat is a hat is a hat. "I think it sounds like some dodgy sex toy." [Refinery29]

YOUR MANICURE IS KILLING YOU!!!!!111!1!!!! Thanks, Washington Post. [WaPo]

Nudie Jeans' fall collection will for the first time be entirely made of organic cotton, which is more sustainable and uses (and pollutes) less water than conventional cotton. The company is excited about the switch, and about its other moves towards sustainability: "We're using nontoxic indigo dye, producing labels with 100 percent organic paper, even using rivets and zippers from raw ungalvanized copper," says one founder. "This is not only more environmentally friendly, but the ungalvanized trims age beautifully, and the denim does, too." [WWD]

Shocker! Someone is hiring! It's Elle.com, which recently saw an exodus of more than half of its editorial staff (read: like three people — because alas, writers have made ourselves that small on the Internet). The new executive editor will be Amina Akhtar, a byline that will be familiar to those of you who've been reading fashion blogs as long as we have from her days at NYmag.com's the Cut, which she launched. Quick, send her a résumé. [WWD]

Added to the list of people currently lawyering up against Chris Burch is a former employee who just filed a $1 million wrongful-termination suit. The man alleges he was fired because Burch prefers to hire gay men. [P6]

The online, Gap-owned retailer Piperlime will open its first store in three dimensions this fall in New York City. [WWD]

Jimmy Choo is launching a site where people can submit photos of themselves wearing Jimmy Choo products for users to vote on/Tweet about/"Like" on Facebook. How original. [WWD]

Profits at Macy's rose 38%, year-on-year, during the quarter just ended, to $181 million. [WWD]

And now, a moment with New Jersey-born model Jacquelyn Jablonski. Jacquelyn, what's the craziest thing that's ever happened to you at work?

"I was shooting in Rome for POP magazine. We stayed in an amazing mansion and shot around the home. I had to swim in a Valentino couture dress in a freezing cold pool. Luckily it was the last shot of the day, so the crew filled a hot bath for me to regain feeling in my body. Then we went out to celebrate at a restaurant a local recommended. Turns out the sea bass wasn't as fresh as they said and I was up all night with food poisoning and went straight to the airport onto the plane that morning."