Now that online dating has become mainstream, it's perhaps no surprise that its fastest-growing group of users are folks who might not spend much time at bars or parties: seniors. And it turns out they use dating sites a bit differently from the youngs.
Gerontologists Wendy K. Watson and Charlie Stelle of Bowling Green State University say dating sites fastest-growing market is people over 60. But in their preliminary research into how older folks date online, they've found some interesting differences. From their press release:
[T]hey are finding that older adults appear to market themselves differently on online dating sites than younger adults. Gone is the focus on appearance and status. They believe the senior population appears to be more interested in honest self-representation and being compatible rather than discussing areas such as sexual prowess and nightlife.
It's kind of hilarious to hear young people's profiles reduced to "sexual prowess and nightlife," but it's true that twenty- and thirtysomethings tend to talk about going out a lot — so much so that many dating sites are geared towards this, asking what your typical Friday night is like and what was the last movie you saw. Apparently, older people aren't particularly into this. They'd prefer "personal characteristics such as affection, intelligence, independence, purpose and goals, religion and spirituality, political beliefs, health and status." These categories are a little confusing — do they care about status or don't they? — but they seem to indicate that as people get older, they worry less about what you did last night and about what kind of person you are. Which is nice! Also nice:
In previous research on dating in later life, Watson and Stelle found that older women had specific expectations regarding dating. Watson says women don't have a need that has to be filled. "Instead their philosophy is: 'Please don't waste my time,'" he said. "They are less likely to play games," Stelle said. "They want to make a decision quickly and cut their losses, because they have learned life is too short for dating games."
G/O Media may get a commission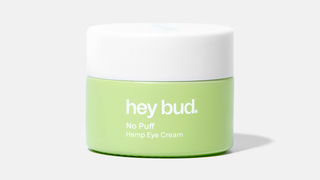 15% off
Hey Bud - No Puff Hemp Eye Cream
I'm sure dating later in life isn't always simple — for one thing, there's the fact that women tend to live longer, meaning that (for straights) there are fewer dudes to go around. For another, olds may not talk about "sexual prowess" in their profiles, but I hear they still like to bone. It is encouraging, though, that as people get older, online dating becomes less about looking cool and more about finding someone nice to spend time with. This seems like a trend dating sites should get on top of, either with spinoffs for older folks or with more flexible profiles that let people talk more about values and less about bars.
Finding love has no expiration date [BGSU]
Image via JGade/Shutterstock.com