Oh my God. Did American Vogue just publish something good?
Ana Gasteyer Satirizes the Girl Boss in 'American Auto'
You know the score here already: this is one of Grace Coddington's patented fairytale shoots, wherein familiar stories from childhood are re-enacted by teenage models in $15,000 outfits for the amusement of all. Sometimes these spreads have an enforced sweetness, like saccharin; always they make one wonder just what Bruno Bettelheim would have to say about a publication made by and for adult women finding so much material in sanitized re-tellings of Grimm, with 4" Fendi heels.


But this one hits all the right notes. Actor Andrew Garfield, as Hansel, is the perfect foil to Lily Cole's Gretel; the sumptuous costumes (look at those tree men!) come courtesy of the Metropolitan Opera, where Richard Jones' production of Hansel und Gretel takes the stage next month. (Let's hope it will be better than Tosca.) But only Coddington's styling could rise to such extraordinary surroundings.


G/O Media may get a commission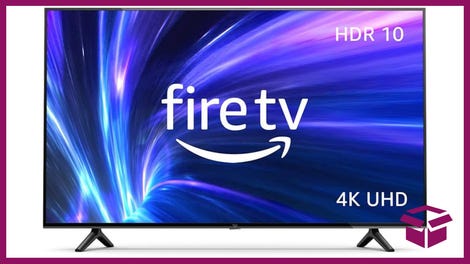 42% Off
Amazon Fire TV 50" 4K Smart TV
And after Hansel and Gretel fall asleep in the forest...


...the wicked witch appears! In the form of Lady Gaga.
Coddington reports Gaga turned up at the shoot "stark naked except for her white rubber raincoat and some very, very high heels!"
Did Vogue just do something...edgy?


Naturally, Gaga's plan to fatten up the wily siblings fails. "Gaga was so bubbly and chatty and enthusiastic and excited to be alive," raves Coddington. Too bad she ends up in the oven, dead.


So the little ones who were made into gingerbread come back to life, here portrayed by Grace Church's Junior Choristers.
So there are quibbles anyone could make with this shoot. Annie Leibovitz, with the sense of treacly ponderousness she brings to every shot, wasn't the most exciting choice of photographer; one imagines what someone of Tim Walker's or Paolo Roversi's aesthetic sensibility could have done with this kind of material. And in a few too many shots, Lily Cole is caught in fake-looking poses; there's no intentionality, not even any tone to her arm, when she is supposed to be holding shut the oven door for dear life. Instead, she looks like she's sort of blankly resting against it. But casting Lady Gaga as a wicked witch was inspired. Whoever did that deserves a promotion.

Lady Gaga Joins Lily Cole And Andrew Garfield In A Recreation Of Hansel & Gretel [Style.com]