When Jon Caramanica writes about a show in which "a female alien lands largely unannounced in a predominantly male universe," he's talking about The Good Wife — because on television, single women over 35 might as well be Martians.
Writing in the LA Times, Caramanica bemoans the lot of Alicia Florrick, Julianna Margulies's wronged-political-wife-turned-lawyer on The Good Wife, and Jules Cobb, Courteney Cox's "older woman" returning to dating on Cougar Town. He says,
[B]y the strictures and bylaws of network television, Alicia, Jules and characters like them essentially are incomprehensible invaders: independent, single (or single-ish) older women seeking change in their lives and succeeding (sometimes, at least). As a result, they're treated like fragile, curious creatures that might implode on contact. Or lash out.

No one wants to accommodate them on their own terms.
Caramanica thinks both Cox and Margulies acquit themselves well in trying circumstances — he writes that "there's a winning quality to Cox's readiness to erode traditional boundaries" and that "what saves Alicia from being reduced to cliché is her gravitas and competence, poses that Margulies has had down cold since her time on E.R." And, as The New Yorker's Nancy Franklin points out, The Good Wife does examine what it might be like to be, say, Silda Spitzer. The show "doesn't hinge on headlines and it isn't restricted by what we can see from the outside-the merely poignant, infuriating, sad awfulness of it all." It deserves some praise for focusing on the actual life of a political wife, not — as so many news outlets have done — on her public shame. Still, this life is heavily circumscribed, and it's hard to tell if life is imitating art here or vice versa.
A more extreme example of the middle-aged-woman-as-alien trope was on view in the most recent story arc of Law & Order: SVU. I cringed the minute Christine Lahti appeared as ADA Sonya Paxton, a Ball-Busting Career Woman straight out of central casting. She snapped at people, she used bad judgment, she was ridiculously abrasive and obnoxious — all because, we soon learned, she was damaged and insecure. And then last week we found out she was also a drunk — when she staggered into the courtroom to prosecute a man who claimed, in a piece of very blunt irony, to have alcoholic psychosis. She left for rehab, completely humiliated in front of the other characters and the audience — who, if they were anything like me, breathed a sigh of relief because her character was so totally repellent.
The idea that single middle-aged women must be totally unhinged isn't new on TV — every time an unaccompanied lady scientist of a certain age appeared on Star Trek: The Next Generation, for instance, you knew who really planted the evil robots in the Jeffries tubes. Of course, Detective Olivia Benson, played by 45-year-old Mariska Hargitay, is allowed to be sexy and appealing as a single woman on SVU — but there's also a suggestion that her continued torment over her mother's rape and alcoholism have prevented her from forming lasting relationships. Rather than hookers, victims, and doormats, unmarried women over 35 on TV are either irrevocably fucked up, irrevocably fucked up and downright evil, or beset by enemies on all sides.
G/O Media may get a commission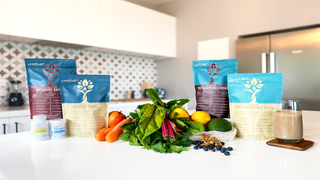 The last category — into which Alicia Florrick falls — may be the most interesting, and the most true to life. While you don't have to be an insane villain to stay single in your 30s, 40s, and 50s, you do have to contend, if you're a woman, with a lot of increasingly nasty criticism. And while few women are publicly humiliated by lying spouses — Florrick and her husband aren't divorced on the show, but he's in jail for his dalliances with prostitutes, and she's forced to support the kids on her own — the challenges depicted on The Good Wife may be a more extreme version of the ones middle-aged women face every day. It will be interesting to see how Margulies meets these challenges as an actress. Luckily for her but unluckily for us, other shows have set the bar pretty low.
Images via gilmoregirlsnews, NBC.
'The Good Wife,' 'Cougar Town': Outsiders In A Man's World [LA Times]
Screwed [The New Yorker]
Episode 11004 Recap [Law & Order: SVU Official Site at NBC]