Michael Kenneth Williams, who played Omar, the gay robber/moral heart of The Wire, is in the just-released film The Road. But back to The Wire: did you know Williams was broke and living in the projects right through season two?
Well, according to his interview with New York, it wasn't The Wire that saved him, financially — it was starring as Sergeant James in R. Kelly's Trapped In The Closet. (Omar Little may be President Obama's favorite television character, but Williams couldn't pay his bills and was evicted from his apartment in the East Flatbush housing projects.)
Williams, 43, tells Time that working on The Road, in which he plays the character the Thief, was "an honor" and "a great experience." According to New York, Williams got very Method for his first big film role: "I followed Viggo [Mortensen]'s cues. We didn't wash, we didn't cut our hair. No grooming. I smelled. I reeked."
Overall, Williams seems happy to entertain questions about Omar Little, a character whose complexity has been a source of enduring fascination to Wire fans. He was a stick-up boy who liked boys, a thug versed in Shakespeare, and a strange source of moral guidance in a show where institutions like the judiciary, the city government, and the police force often seemed as inept, violent, and corrupt as the drug dealers they were supposedly fighting. Omar could commit shocking acts of violence, robbing and killing with his weapon of choice, a double-barreled shotgun, and then correct a court officer's knowledge of Greek mythology practically with his next breath. No wonder nine of Time's 11 questions for Williams relate to The Wire when Omar Little was in scenes like this and this.
Though he grew up poor, and in his early twenties was arrested twice for stealing cars, Williams' own life should of course not be conflated with that of his most famous character. "As we say in the hood, I'm a stoop kid," explains the actor. "I wasn't allowed to go to the corner. My mother wouldn't allow that type of behavior in the house. She was very strict about that. I know nothing of what it is to be a gangster. I grew up with gangsters. I have a lot of love for my friends who grew up like that within my neighborhood. But it was clear that I was not cut from the same cloth, and I knew when to stay in my lane and not go overboard and be someone I wasn't." In fact, Williams was interested in the performing arts from an early age: he got roles at the National Black Theater in Harlem, before becoming a dancer. (He did dozens of music videos; you can see him briefly in Madonna's "Secret.") But he never made much money, and was intermittently homeless. That's when he was arrested stealing cars. "I thought I was gonna die soon," says Williams. "My mother had taken out extra life insurance. She was like, 'You ain't gonna stick me with no bill, you feel me?' " Celebrating his 25th birthday, he got in an argument with a group of men at a bar, and they jumped him and slashed his face with a razor, leaving him with a scar running jaggedly down his forehead and onto one cheek.
G/O Media may get a commission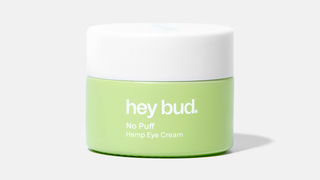 15% off
Hey Bud - No Puff Hemp Eye Cream
But it was the scar — and with it, the recognition on the part of casting directors that he could play "gangster" roles — that led to his transition from modeling and dancing back to acting. He got the part of Omar after one audition; soon, you'll see him Antoine Fuqua's Brooklyn's Finest and he's currently shooting scenes for Martin Scorsese's HBO drama Boardwalk Empire, which is set in 1920s Atlantic City.
For one so intrinsically identified with a single iconic character, it's interesting that Williams' greatest fear is not being typecast. It's running out of work again: "I'm not afraid of typecasting; I'm afraid of not eating."
Michael Kenneth Williams On Life After 'The Wire' And His Role In 'The Road' [New York]
Q&A: Wire Actor Michael Kenneth Williams [Time]