Former Olympian Suzy Favor Hamilton confirmed today that she once worked as a Las Vegas escort. And then everyone freaked out, because consensual-private-sex-for-money is bad for the children (I guess), even though the children never would have found out about it if we didn't insist on digging up every lurid detail of every human's private life. But OH WELLZ. She's very, very sorry.
"I realize I have made highly irrational choices and I take full responsibility for them. I am not a victim here and knew what I was doing," the 44-year-old married mother tweeted. "I was drawn to escorting in large part because it provided many coping mechanisms for me when I was going through a very challenging time with my marriage and my life. It provided an escape from a life that I was struggling in. It was a double life."

As crazy as I know it seems, I never thought I would be exposed, therefore never hurting anybody," Suzy tweeted. "I do not expect people to understand, but the reasons for doing this made sense to me at the time and were very much related to depression."

"I cannot emphasize enough how sorry I am to anyone I have hurt as a result of my actions and greatly appreciate the support from family," she wrote. "and those closest to me. I fully intend to make amends and get back to being a good mother, wife, daughter and friend."
I, for one, do not give a shit about this. If you do give a shit, explain it to me in the comments (because, srsly, no shits over here). [E!]
---
The famously private David Letterman opened up to Charlie Rose about his struggles with depression:
"So I had the shingles really bad, and part of the concoction of drugs they give you to fight that pain are pretty serious, and I just got tired of taking them," Letterman continued. "So I stopped taking them."
Going "cold turkey" on the shingles meds only made the situation worse, however, causing Letterman to develop "nervous anxiety" on top of everything else.

"And then I was really screwed," Letterman said. "So that's when I said to Louis, 'OK, OK, I'll try anything just to get rid of this depression.' Because it's different than, 'Oh, I don't feel good today.' It's different than feeling sad. It's different than feeling blue. It's really, like a friend of mine says, it's the world with 20/20 vision."
G/O Media may get a commission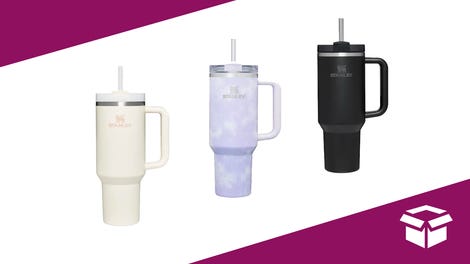 Up to 45% off
Stanley Cup Sale
Thank you for sharing, Dave. [E!]
---
Jennifer Aniston is "really good" at pole-dancing, says Emma Roberts.
Emma Roberts, who costars with Aniston in the upcoming comedy We're the Millers, knows firsthand just how sexy the Friends actress' stripper moves are in the movie.

"She's really good," Roberts told us of Aniston's We're the Millers pole-dancing scenes earlier today. "I saw bits and pieces of it and she is amazing."

On a scale of 1 to 10? "[She's] like a 20," Roberts laughed. "It was unreal! She looks really hot."
UM NEWSFLASH 20 IS BIGGER THAN 10 GO BACK TO MATH SCHOOL EINSTEIN [E!]
---