Ohio teenager Marina Lonina, 18, faces a litany of charges after Franklin County prosecutors alleged that she streamed the rape of a 17-year-old friend on Periscope. Lonina was arraigned on Friday, April 15, along with accused rapist Raymond Boyd Gates, 29. Both were charged with kidnapping, rape, sexual battery and pandering sexual matter involving a minor.

In a statement, Franklin County prosecutor Ron O'Brien, said:
"The victim and the two defendants were socializing and at some point in the evening it is alleged that Gates forced sexual intercourse with the victim and Lonina started Periscoping (live-streaming in real time) the sexual assault."
According to the charges, Lonina and the victim, friends from high school, were at a home in Columbus, Ohio when Gates held the victim down and raped her. Rather than intervene or call for help, Lonina used Periscope to live-stream the attack. One of Lonina's friends saw the Periscope stream and contacted the police.
Lonina contends that she streamed the rape to gather evidence. O'Brien said that while that might have initially been the case, Lonina quickly became "caught up in the likes." "For the most part, she is just streaming it on the Periscope app and giggling and laughing," O'Brien said. She did not, the prosecutor notes, attempt to call 911.
G/O Media may get a commission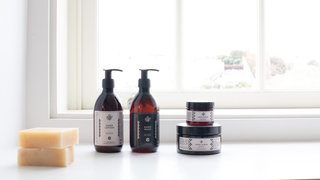 Exfoliate and Hydrate
The Handmade Soap Company
In the video, the victim can be heard saying "No" and crying out for help. O'Brien said that at one point in the 10-minute video, Lonina can be seen grabbing the victim's leg. It wasn't clear whether or not Lonina was attempting to help the victim.
Lonina's lawyer, Sam Shamansky, said that his client was a young woman under the intimidating sway of a much older man. "You don't want to lose track of the fact that she's a high school student and she and her friend were clearly taken advantage of," Shamansky told the New York Times.
The Times reports:
Ms. Lonina told the police that she filmed the encounter to gather evidence of a crime. Mr. Shamansky, who has viewed the Periscope video, said Ms. Lonina made "substantial" efforts to thwart the attack, though he declined to specify them.

"She was swept up by the gravity of the situation," Mr. Shamansky said. "And as she immediately told the police, she was filming in order to preserve, not to embarrass or to shame or to titillate anybody."
On Friday, Twitter, the owner of Periscope, said in a statement that they do not comment on individual accounts. The company, however, reiterated that Periscope's user policies ban "explicit graphic content."
Lonina pled not guilty and was released on bond. Gates also pled not guilty and remains in jail.
Image via Getty.