We've discovered a pattern! Every Wednesday the magazine Star comes out, Bonnie Fuller writes a column for the Huffington Post about something that appears in Star. Because she's the editorial director of the company that owns Star! Oh yes, and also every single column is devoted to skewering Angelina Jolie. The first week, it was for being a bad mother. The second week, it was for...existing or something, sorta. And this week! It's because she help with the dishes at the Pitt family Thanksgiving. (Um, my 2c: isn't it kind of awkward when more than one person tries to do the dishes anyway? And at the Pitt family manor, isn't that one person likely to be a maid?) Now, don't get Bonnie wrong: she looooooves Angelina:
I can absolutely sympathize with Angelina on this one. I have to admit that even though I produced four grandchildren, showed up occasionally for Shabbat dinners and never got even one tattoo, I still never felt like I quite got that golden seal of M-I-L (mom-in-law) approval either. Nevertheless, Star readers are a harsher bunch than I.
And she has a poll she took of people who just consumed the magazine she fed them to prove it.
In a new poll, they are overwhelmingly on Jane Pitts' side — 77% would choose Jen over Angie as the guest they most want to have to their Christmas dinners.
She ends the column with a little bait:
OK, so let me know who you'd like to have or absolutely not have at your holiday dinner.
G/O Media may get a commission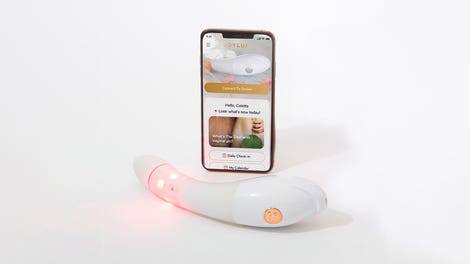 $50 Off
Joylux vFit Gold Device
And life-affirmingly, Bonnie manages to get a single commenter, a commenter who is clearly the assistant of Bonnie Fuller, to weigh in:
I would like to invite the following people (some no longer with us except in spirit):
—Robert Redford because he has managed to do a lot of good in the world and yet keep his personal life fairly private
—Bette Davis just because she is such a hoot, we will be laughing too hard to eat
—Henry Fonda as long as he acts like he did in "It's a Wonderful Life."
—Meryl Streep for a touch of class (but I bet she helps with the dishes.)
I would also like to invite Tom Hanks because I think he is the greatest actor in the world but I don't want to spoil his family dinner by making him go to some stranger's house
Um, yeah, so anyway: no one cares. Why'd I just read this? Don't know. Should I waste another five minutes thinking about that? Rhetorical question.
Ho Ho Oh No, It's Jen's Giant Christmas Crisis! [Huffington Post]