It took a while for me to get there, but now I am fully absorbed in the frothy, sexy, taut and ridiculous melodrama that is ABC's Revenge.
So many of the new fall shows targeted at women were completely terrible: Charlie's Angels, Whitney, The Playboy Club. Prime Suspect wasn't bad, but got canceled anyway. I really tried to get into Ringer, I did. I swear. 2 Broke Girls and New Girl are pretty good, but 11 episodes in, I think Revenge just might be the winner. And it's interesting, because the show isn't a "new twist" on a concept. It's not meta. It doesn't relentlessly mock hipsters, or try and prove how cool it is. In fact, it's pretty simple: A young woman moves to a wealthy community (The Hamptons), where folks welcome her, not knowing she's only there to exact revenge on those who have destroyed her family. The roots of this plot reach back to 1844, when Alexandre Dumas (the grandson of a French nobleman and a Haitian slave) finished his epic novel The Count Of Monte Cristo. (And probably further — there were Ancient Greek tragedies about revenge.)
Melodrama, when done well, is one of the best-loved mediums. Films like Grand Hotel, Cat On A Hot Tin Roof, Written On The Wind and All About Eve are considered classics, and they led to the primetime serial: In the '60s Peyton Place; in the '80s, Dallas, Dynasty, Knots Landing, and Falcon Crest. These shows always featured families, business schemes, intrigue and romance, as well as a wealthy, domineering antagonist — often a woman — the audience loved to hate.
Ladies take center stage in Revenge, with Emily Thorne (played by Emily Van Camp) as the young woman bent on toppling a wealthy family and Victoria Grayson (played by Madeleine Stowe) as the cold-blooded matriarch whose icy smile is even more terrifying than her hot glare. Revenge works for a few reasons: The writing — double entendres, subtext and plot twists — keeps you guessing. All of the women are strong-willed, fully-formed characters and not just wives, girlfriends or daughters. Unlike Gossip Girl, there's a seamless flow between younger characters and older characters, meaning you're not just watching a show about teenagers, or older women, or twenty-somethings, but all of them. I watch, my mom watches, and if my grandfather was alive, he would watch (he loved As The World Turns.) The racial diversity could be better (where is the illegitimate half-black half-sister, a la Dominique Deveraux?), but perhaps that's down the road — it's only just begun.
G/O Media may get a commission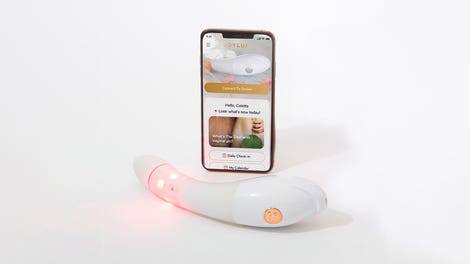 $50 Off
Joylux vFit Gold Device
All this is not to say Revenge is the best show on TV. Jury's out on that one, and Downton Abbey is starting up again. But considering the kind of flavorless crud we were being fed this season (looking at you, Whitney), Revenge is a dish that's actually delicious.