Greetings devoted Thriftees! I'm back with another round of Thrift Diaries: Hip Hop edition! Just kidding, but I did go on the road with my male companion, El-P (Jaime), and Killer Mike, aka Rap Super-Duo Run the Jewels, for one week to five different cities. I hung out, ate a lot of good food, talked a lot of shit and thrifted. Join me, won't you?
Part 2: New Orleans
We pull into New Orleans on a Saturday morning. As i get off of the bus I see a man taking out a large bag of trash while simultaneously brushing his teeth, which is a pro move. I am excited to be in New Orleans because it is one of my favorite cities in the country. There is a strong energy in this city that is at once enchanting, soulful and at times hedonistic and debaucherous. I have had many memorable experiences here, like getting uncharacteristically drunk and making out with a freshman frat boy back in college because he got my Grosse Pointe Blank reference and I had a radio show at the time. Or building houses in Jefferson Parrish post Katrina with my dad and brother, having a religious experience at a Lee Fields show, or the time last year when my band played Lucky Jacks and I had to sternly tell a couple of drunk underage girls to get out of our tour van.
The last time I was in New Orleans was also with Run The Jewels, and that was the first time I shopped at The Bridge House thrift store. On that particular occasion I invoked Killer Mike's name to get a discount, promising the counter girl that if she "helped me out" I would go back and have him record a video for her which I would then text to her, and I did! I love exploiting my friends.
G/O Media may get a commission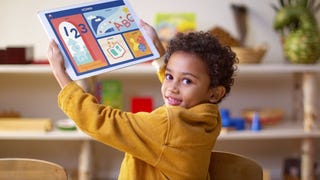 30-Day Free Trial
Homer Learn & Grow Program
Incidentally, on that same trip, we had just come from the Dominican Republic where I'd purchased a bag on the street. Everyone straight up hated this bag and they began calling it "the Curse Purse." Shortly after I began wearing it, I was fired from a gig and then Mike and Jaime were attacked on stage at SXSW. It was as a result of those incidents (which were almost certainly unrelated to the purse) and the constant insistence of everyone on the tour as well as my father, a man of science, and my Dominican friend, that I decided to get rid of the purse. Be careful what you thrift for I guess.
(Mike's wife Shay, not feeling the Curse Purse)
Speaking of purses, there were a handful of decent bags this time at Bridge House.
From the left we have this funny Baby Phat purse that is oddly made out of a fake tooled leather and seems inconsistent with what I remember the Baby Phat aesthetic being. Next is this pretty amazing wicker grandma purse with rabbit needlepoint on it. You'll be bummed to hear that I did not buy this one but hopefully a cute old lady with lots of porcelain figurines on her mantle will find this before some ironic hipster like me does, because that is the type of woman who should own this purse. Lastly, I included this picture of an ugly briefcase as a vehicle to share with you that when I was in 4th grade I used my grandfather's old leather briefcase instead of a backpack for an entire year. I kept my school work, drawings, envelopes of lunch money that I squirreled away, panty liners that I had no use for yet, and whatever other random objects I could find in there. So now you know something else about me.
Next lets look at shoes. I did not try any on but there were two women in the store going on a straight shoe rampage. They were walking up and down the shoe rack indiscriminately throwing shoes into their baskets and then discussing with one another where they would go sit to try them on. At one point I almost said something to one of them along the lines of, "I don't think you grabbed enough shoes, ha ha," but thought better of it because I didn't want to get justifiably punched in the face.
Now lets look at some clothing. Here we have a collared shirt, a collared shirt dress, and two turtlenecks. I like but don't love the color/pattern on the yellow shirt and the blue one is actually very flattering but definitely too preppy. I wasn't crazy about either of these turtlenecks but I think maybe I just don't like turtlenecks? They always look so good in fashion ads and not in real life!
Next we have this Diane Von Furstenberg top that I feel compelled to include because one of the greatest triumphs in a thrift store is finding a designer piece for a tiny fraction of what it would normally cost. That said, I didn't buy this one because it isn't my style. Then we have this vest with an awesome equestrian print that I just wanted everyone to see.
Jewelry-wise, I found this cute necklace with little ladies on it which I bought because J have a thing for jewelry and accessories with faces on them (see the Curse Purse) and then this beaded red white and blue tie which is relevant during campaign season I guess?
I almost didn't get anything at this store because, as was evidenced by the $20 DVF top, things were not priced especially cheap here, but it turns out that because it was a Saturday, everything was 75% off! So here is what I did get in addition to the necklace.
This super cozy, chunky cable knit sweater, this white lacy pirate blouse and this gold belt pictured here being worn as a headband by Killer Mike, for a total of just under $15!
After leaving the thrift store I began walking to meet the guys at Deanies in the French Quarter when I spotted this woman walking in front of me wearing flip flops and holding her presumably uncomfortable wedge heels. Many hours later, as I was walking to a bar after the show, I spotted this eerily similar pair of abandoned wedge heels on the ground!

Coincidence or Shoespiracy? I don't want to find out but I have a feeling this one goes all the way to the top.
Next Up: Nashville.