Kickstarter is very useful for many people of all stripes, but there is a line that must be drawn somewhere to determine what is worthy of crowdsourced funding and what is just asinine. Fortunately, one woman from Brooklyn has come along and shown us exactly where that line should be placed. Meet Jessi, a 33-year-old grown ass woman, who set out to raise $1500 so she can hold the world's largest "rainbow parade" for her birthday:
Hi, I'm Jessi. Last year for my birthday I hosted what I think was the World's First Rainbow Birthday Parade. Everyone dressed head-to-toe in one color, we lined ourselves up chromatically and then we hit the streets, with a marching band of course. Since then, I've been throwing parades around the country with a goal of creating just a little joy for as many people as possible. IT'S MY BIRTHDAY AGAIN, and I was thinking…
We should have the BIGGEST, MOST COLORFUL PARADE YET! So big in fact, we will officially record the parade as the World's Largest Rainbow Parade.
You know what? Go right ahead. Spread joy and cheer far and wide, girl. But why does asking people to dress up in their own clothes and show up in a public place cost $1500? Here's her answer for why she is "humbly" asking for your money:
The first $1500 raised will go towards parade essentials, like hiring an incredible 20-piece marching band, balloons, streamers, bubbles, etc. For every dollar after that, I've got a special surprise up my sleeve to help make the world a more colorful place.
Perhaps Jessi lives in an alternate funhouse version of reality where bubbles and a 20-piece marching band are considered essential, but come on. At the risk of sounding like a total killjoy, if you're going to just donate money, wouldn't it be better—more joyful! more colorful!—to give the cash to people who could actually use it for, oh, everyday essentials? Anything, really, except a marching band.
Here's the great news, though, folks: She's already out-earned her goal and is now sitting atop a pile of some 2,500 donated green-colored bills. So why not turn up at the parade to feel the joy for yourself and to see if she's used it to buy not one but TWO marching bands.
G/O Media may get a commission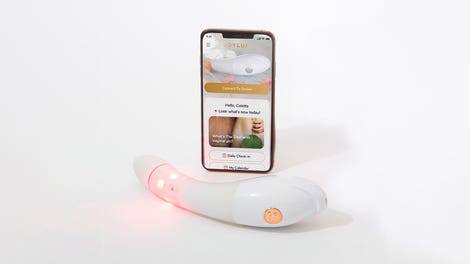 $50 Off
Joylux vFit Gold Device
This BK birthday rainbow parade girl: Bonny brilliance or twee overload? [Brokelyn via Gothamist]