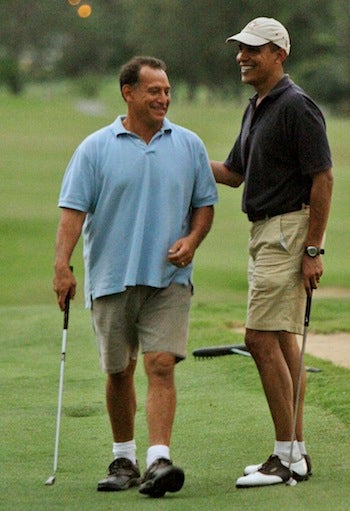 President Obama's friend Robert "Bobby" Titcomb, who he met in high school, was arrested on Monday night for allegedly soliciting sex from an undercover officer. Though this doesn't have much to do with Obama, you can expect the GOP to harp on it during the next election.
According to Hawaii News Now, Titcomb was one of four men arrested in Honolulu during a "reverse sting" (as opposed to a regular sing that just targets the ladies). He allegedly made arrangements through an online service to meet an escort, who was actually an undercover officer. Police say Titcomb showed up to their meeting spot and offered her $100 for sex.
Obama often spends time with Titcomb when he's in Hawaii and the two have been spotted playing golf or basketball, having dinner together, and attending family events. The White House had no comment and Titcomb has been released on $500 bail.
President Obama's Close Friend Arrested During Prostitution Sting [Hawaii News Now]