Big news! As one reader wrote in an email, "There is a god."
First, we got the news that O.B. Ultra absorbency tampons were temporarily discontinued.
Then all O.B. tampons disappeared. We soon found out, as The New York Times' Natasha Singer reported, that the company "experienced a temporary supply interruption." (A more recent Times story states: "Federal regulators have continued to fault [JJ McNeil] for failing to identify and address systemic problems at its plants, and consumers remain mystified about why simple products like O.B. tampons can disappear from drugstore shelves."
Of course, whether it was an actual supply interruption or something related to an FDA investigation and the huge product recall by parent company JJ McNeil (Johnson & Johnson), we don't know.
G/O Media may get a commission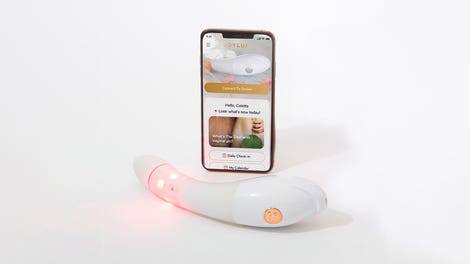 $50 Off
Joylux vFit Gold Device
But as of today, Americans who visit O.B.'s official website will see this message:
To our valued customers: o.b.® tampons are now shipping. There may be a delay of a few days or weeks to reach your area, but we are working with retailers across the country to restock store shelves as soon as possible. Please refer back here for additional updates.
The bad news? O.B. Ultra absorbency tampons — a level of absorbency above super plus — are permanently off the market. For women (like myself) with a heavy flow, Ultras made life manageable, and the fact that there's no equivalent or replacement is upsetting. One reader emailed to say:
I have fibroids and the Ultra OB were the only ones that I could use to assist in the heavy flow along with a sanitary napkin. There is nothing on the market that can compare to OB Ultra. I flow so heavy the first two days that I needed bathrooms breaks every three hours at work. I had been at my previous job for so long that they understood and if needed to I could take 2 sick days and not be penalized (if my cycle began on weekdays). With the substitutions that I now use, I am changing every hour. Now that I am out of work and looking. I have put my job search on hold due to a new company may not understand my predicament and constant need for restroom breaks or time off.
An interesting side note? Back in December, when you checked out Ultra or Super Plus tampons on the O.B. website, you would see a box with the question, "Heavy Periods?" Clicking it would redirect a customer to the Pelvic Health Solutions website, where you'd be urged to find a doctor for your condition, and consider GYNECARE THERMACHOICE® Uterine Balloon Therapy System, a "minimally invasive, 8-minute procedure that can be performed in your doctor's office or in a hospital." This procedure was developed by Ethicon — a division of Johnson & Johnson, the company responsible for O.B. The procedure, which "permanently destroys the inner lining of the uterus," can cause bleeding, tearing or puncturing of the womb and infection, and is not for women who want to have kids. So: Not the necessarily an alternative to O.B. Ultra. This box has since been removed from the O.B. site.
Are you seeing O.B. in your area? Use the comments to let folks know!
Earlier: The Mystery Of The Missing OB Tampons
Bloody Hell: My Favorite Tampon Has Been Discontinued
Related: My Bloody Initiation Into The Diva Cup Cult
See also: Can Johnson & Johnson Get Its Act Together? [NY Times]