On Thursday, I attended the Desigual Spring 2016 runway show in midtown Manhattan, not really knowing what to expect.
Desigual, a Spanish brand with prices comparable to J.Crew, has achieved a level of success that is truly mind-boggling, considering what their clothes look like. They have 57 stores in more than 20 cities in the United States, and despite a recent leadership shakeup, continue to expand. The runway show—huge, packed, highly produced, yet lacking many major bloggers, editors, or celebrities—was reflective of this mainstream domination.
In the seat next to me, a woman with a tiny dog in a bright pink dress ordered her mom, seated a row behind us, to snap a variety of differently angled photos. After about 5 minutes of that, she sashayed down to the crowded pre-show runway to find a real photographer, eyes widening with excitement when several started taking her picture. She did not return to her seat.
My own eyes widened with excitement when I noticed several brunette members of Bachelor Nation across the runway, giggling and posing for the cameras. Shawn Booth, Kaitlyn Bristowe's newly-won fiancé, looked extremely bored. I stared for a while, until Catherine Lowe (nee Giudici) started staring back at me, at which point I took out my phone and pretended to type something.
G/O Media may get a commission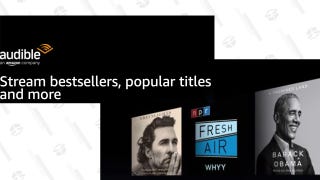 FREE
Audible Premium Plus 3-Month Free Trial
A few feet away sat Laverne Cox, an unidentified woman, Iris Apfel (!), Karolina Kurkova, and some other woman. It is a literal mystery why Iris chose to expend her valuable 94-year-old icon energy attending this particular show, one that only Karolina, with whom she was whispering chummily, might be able to solve.
The show itself, according to the materials provided, was inspired by "Barcelona, BCN, La Ciudad Condal, the charming Mediterranean port town that's always been home for Desigual." The collection was composed with three women in mind: the "carefree eccentric," the "eclectic sensualist," and the "sophisticated intellectual."
The show exceeded my very low expectations, but I did not see any sensualists or intellectuals—rather, it seemed to be a mashup of looks that were layered colorfully and outrageously enough to distract from the actual clothes, and looks that weren't. At one point, a model walked down the runway with a selfie stick, passing it off to a second, much less enthusiastic model, who held it gingerly as though it might bite her.
Let's start with the good stuff—the headpieces (likely not actually for sale) were pretty cool, adding a wacked-out, intricate sensibility to many of the looks.
And some of the looks were styled so adeptly that they almost, ALMOST worked, steering you away from the garments' individual failings with bright layers, orange lips, cool shoes, and last season's genie braids and septum rings.
And then some were just...there:
Unfortunately, while I did learn that The Bachelor's Catherine Lowe knows all the words to Blur's "Song 2," attending this show did not illuminate the source of Desigual's wide appeal. We may literally never know why these spaghetti strap handkerchief dresses and embossed floral cotton vests are doing so well—although their bad '70s vibes certainly fit in with everything else in stores right now.
Really, when you get down to it, Desigual's clothes say: "I look like an indecisive parrot, and I want everyone to notice." And actually, painful as it is, that sentiment is undeniably Fashion Week -worthy.
---
Contact the author at ellie@jezebel.com.
Images via Getty.