Twelve-year-old Sasha Obama went shopping in New York City yesterday, and today, the New York Daily News published a small photo-driven item titled "Sasha Obama Steps Out in Soho." The daughter of Barack Obama was wearing the teeny tiny shorts of the sort Chloë Sevigny calls "denim underwear," and the paper's website ran a shot of the back view — the behind — of Sasha in said shorts. Eesh. It's since been removed.
As Yesha Callahan writes for Clutch, first the NYDN deleted a back-view photo from the internet version of the story; then the entire post went missing. Clicking the URL now gets you a 404 not found. That said, the internet being what it is, the images are sill around. The print edition of the Daily News only featured a front-view shot of the shorts (as seen at left; the Post ran a similar image).
Back in 2009, agencies were desperate for shots of the Obama daughters, but the President and FLOTUS adhered to strict rules about what was Okay and what was Not Okay. Public events and set-up, White House-approved photo ops — on the way to church, in an ice cream parlor? Okay. News agencies in the White House or on the lawn as Marine One is landing? Okay. Photos of Sasha and Malia out and about, on the way to school, in their private lives, without their father? Not Okay. In fact, there have been times when photographs have been taken and White House officials have "asked" (read: Strongly demanded/been all DO YOU KNOW WHO WE ARE) that the images not be published. Pretty sure that a picture of a 12-year-old's butt in short shorts is NOT OKAY.
G/O Media may get a commission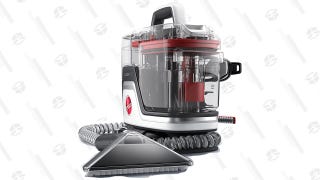 Save $10
Hoover CleanSlate Plus Carpet & Upholstery Cleaner
It's worth noting that Sasha was with friends and a 20-person security detail. This was not an arranged photo op; the child was not with her parents. She was trying to have a shopping excursion, which is hard enough when you're in one of the most famous families in the world. The fact that she was in NYC might be news; the fact that she went shopping is gossip; a shot of her behind in jean shorts is just wrong. Did the White House really have to take the time to explain that to someone at the paper?
[Clutch]