Allen Robert Reyes, 31, has been arrested for allegedly shooting a woman in the face at a party. A tipster tells us that Allen Robert Reyes is the real name of pickup guru "Gunwitch."
Reyes was featured in Neil Straus' The Game; according to the book:
…Gunwitch and Gunwitch Method, in which the only thing students have to do is project animalistic sexuality and escalate physical contact until the woman stops them. His crude motto: "Make the ho say no."
Gunwitch has a site, with "legions" of followers. On his site, he offers the following:
Q: What quality, type, kind, caliber, scale of women do you get?
A: Whites, blacks, Hispanics, welfare moms, bank managers, nurses, 5'3s, 6'1s, some big tits, some smallish tits, usually wearing revealing clothes of some kind, some live with parents, some own their own home, 19 year old, 37 year old, some stupid, some political, some into computers, some into smoking pot. I've slept with maybe 120-150 women of all types. As of using this method id say most of my women to be 8-10s on a standard guys looks scale, white, 19-25 yrs old, middle class for the area, all different intelligence levels and personality types . I would say they are all 10s to me for whatever kind of way they turn me on so much that I approach them.
G/O Media may get a commission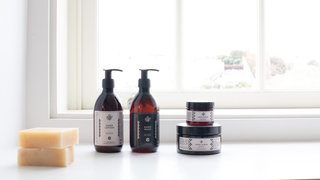 Exfoliate and Hydrate
The Handmade Soap Company
The woman who was shot, Amber Tripp, is 20 years old and in critical condition.

UPDATE: In this video, filmed a few weeks before he was arrested, Gunwitch claims that he's drunk 18 cans of Coors Light, and then shows off his pistol, bragging about his trigger skills. "Bang. Bang. That's trigger control," he says. "I thought it was empty earlier… but I was wrong." Then he explains how he accidentally put a bullet in his wall. "I fucked up," he says.
Klamath Falls Woman Shot in Face at Party [KTVZ]
Witching Hour Podcast Talk [Way Of The Gun]
Gunwitch Method [Main Site]