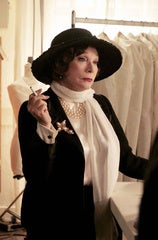 Shirley MacLaine is playing Coco Chanel in a Lifetime movie airing Saturday, and in a new interview, the actress reveals her admiration for the legendary designer. "She was tough and she never backed down," MacLaine says. "She never married. She was rude, hurtful. Many men were in love with her — though I don't know why, because she was impossible. She was 73 when she got so popular, and she was always reinventing herself. I like that." As for MacLaine's personal style, she claims: "I like senior-forgiving sloppy pants. I still wear sweat suits. I look like a real bag lady when I go to Starbucks with my dog and get my chai. I am so grateful that I now have a small hunk of Chanel wardrobe from the film that will go anywhere." There are a few other gems from this interview, click the picture for more! [LA Times]On being a Chanel fan:
"I started wearing her clothes — but they were knock-offs — when I was in my 20s and 30s because they worked for daytime or nighttime. I had knock-offs of everything she made and wore them everywhere. Audrey Hepburn turned me on to Chanel, and she told me that I should play Coco too."
On Karl Lagerfeld, whom she has never met:
"He wanted me to come to Paris for a fitting, but I am sorry. No. If he takes off his sunglasses and the gloves, maybe I'll go to Paris."