Good morning. I have a theory: The Voice has is a cult, and The Blake (boyfriend of Coach Gwen Stefani) is probably its reptilian leader. I started believing this about half an hour ago after ingesting two particularly unnerving pieces of Voice-related content.
The first is a video Coach Gwen Stefani and Coach Adam Levine being interviewed by Entertainment Tonight. During their chat, both coaches take the time to look into the camera and say, "I love you Blake." After professing their undying love for The Blake, Levine gives what I presume to be a reptilian gesture meaning, "It begins now, leader."
The next piece of evidence is this interview with Coach Adam Levine in which he discussed his supreme leader The Blake with E! News. Said Coach Adam:
"Listen, as far as I'm concerned, he is the Sexiest Man Alive. People magazine doesn't know all. They don't know the Blake I know. If they did, he'd be on the cover," he told us.
G/O Media may get a commission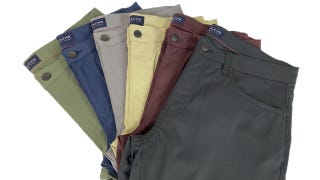 JACHS NY Fall Stretch Tech Pants
They don't know "The Blake" you know? Do you mean The Blake who, before every nightly prayer session, removes his Oklahoma Man disguise to reveal a scaly, reptilian body that will strike fear in the hearts of all humans on this planet once shown to them on The Day of the Revelation?
Wake up, people. Just look at the symbol. It's a reptilian tongue:
Note: I do not believe Carson Daly or Pharrell Williams know about the cult, but I do believe Christina Aguilera knows and wants in.

---
Demi Moore gives her dog, a Chihuahua named Vida Blue, "biweekly" acupuncture treatments at $715 a pop because, you know what, Demi Moore doesn't have to explain her decisions to you!!

Reports Us Weekly:
"There's nothing wrong with her dog," says the source. The G.I. Jane actress, 53, "is just really into holistic food and medicine for her animals, the way she is for herself."
When I grow up I want to be the Us Weekly source who knows all about famous dogs.
---
TMZ: Hey Kylie! Are you and Tyga getting married?

KYLIE JENNER: Yes.

TMZ: *Cheers* Congratulations!
[TMZ]
---
---
Contact the author at bobby@jezebel.com.
Images via NBC / Shutterstock.