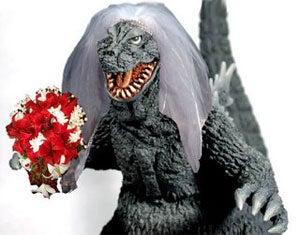 Call us crazy, but we're pretty sure that there is nary a marriage-minded, straight dude out there trolling the editorial content of TheKnot.com in his spare time. Hence our confusion regarding the massive amount of space (not to mention time — we pity the poor intern who had to compile this list) given to the feature "100 Ways To Pop The Question." After the jump, some of TheKnot's not-so-modest proposals.
They say: Want to really surprise your sweetheart? Cut out the bottom of a big box, wrap it with pretty paper and ribbon, and attach a card that says, "What's inside the box is a gift to last a lifetime." "Deliver" yourself to his or her office or front door.
We say: Didn't Timberlake already do this on SNL?
They say: Freeze the ring in a homemade Popsicle, and give your sweet two treats in one!
We say: Hope you know the Heimlich!
They say: Write your proposal in sunscreen on your tummy, so that your tan will "stencil in" the words. She will be so touched you've taken such an, um, interesting approach, she will accept immediately.
We say: Loser.
They say: Draw a hopscotch board on the sidewalk and invite your honey out for a game. Once he or she has succumbed to a little childhood play, replace the pebble you're using with the real rock!
We say: Don't fucking throw jewelry at us.
They say: Steal from that famous Say Anything scene — park yourself outside her house with a stereo blaring your favorite tune and propose on the front lawn
We say: Restraining order.
They say: Play Hangman and have the phrase be "Marry Me."
We say: Noose... marriage. We get it already.
100 Ways To Pop The Question [TheKnot.com]