Curb Your Enthusiasm kicked off its latest bout of squirm-inducing hilarity in Hollywood last night, and Larry David and the many cast members who love and love to hate him were out - in clothes we both loved...and hated!
Evan Rachel Wood, of course, was in that god-awful Woody Allen film with M. David. She's doing her usual vampy 35-year-old-dame thing, which, also as usual, looks okay.



Sharon Lawrence , the hardest working woman in television (seriously, she's everywhere) does classic Talbots chic. Which has its place!



G/O Media may get a commission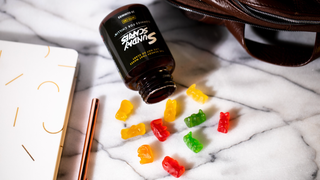 10mg CBD Gummies (22-Count)
Michelle Forbes looks wary and ready for battle. She's a wise woman.



Perrey Reeves' dress would make me feel rather...constricted, but I'm funny about straps wrapped tightly around my throat.



I have the distinct impression that Mary Steenburgen's trousers were designed to be worn with heels. But from the knees up, nice going!



Susie Essman's getups always leave me wondering if she wears her own wardrobe on the show.



Cheryl Hines is, as usual, a bastion of sanity.


Getty" />