Last week, New Yorker editor David Remnick saw an eight-minute Hillary Clinton video tribute which he took as a surefire sign that Hillary was already gearing up for a 2016 run:
The film was like an international endorsement four years in advance of the Iowa caucus and the New Hampshire primary. The tone was so reverential that it resembled the sort of film that the Central Committee of the Communist Party might have produced for Leonid Brezhnev's retirement party if Leonid Brezhnev would only have retired and the Soviets had been in possession of advanced video technology.
Woah there. But you know those Bar Mitzvah video montages where the videographer interviews all of the soon-to-be man's family and friends? This video is exactly like that, if your BFFs are Benjamin Netanyahu, Tony Blair, Henry Kissinger, and Barack Obama.
"I'll say it again," said Obama. "You've been one of the best secretaries of state in American history. And finally, Hillary, a lot's been said about our relationship, and here's what I know: you haven't just been one of my closest partners - you've become a great friend. I'm so grateful for your grace, you humor, your friendship."
So does this video's existence mean Hillary wants us to know how great everyone thinks she is? (Not that we really need any more convincing.)
G/O Media may get a commission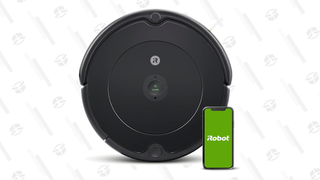 35% Off Black Friday Deal
iRobot Roomba 694 Robot Vacuum
Unfortunately, not at all.
Richard Kaufman, the guy behind the film, told Buzzfeed that it was made without Clinton's knowledge and solicited and funded privately by Clinton donor and fan Haim Saban, for his Saban Center for Middle East Policy annual dinner, where she was the keynote speaker.
"He's just trying to stir something up," said Kaufman. "It was very nice of him, but there was never that intention. There was never a discussion about 2016. This wasn't done by her team. It was done by Haim to be praiseworthy - to say thank you for her work over the last four years."
So now we know: even if someone makes a really, reeeally nice video about how much everyone loves Hillary around the world, we can not convince her to (or get her to admit that she might) run for president. What should we try next?
[Buzzfeed]