Now that his album Waves-formerly-known-as-Swish, has a formal release date, Apocalypse fashion designer Kanye West is back in our lives in a more meaningful way—on Twitter.
Over the past week, West has been giving status updates in tweets, including a memo that, yes, he's switched his album title from Swish to Waves.
In response, Wiz Khalifa (remember, their mutual ex Amber Rose is the common factor in all this) tweeted about Waves, crediting Harlem rapper Max B as the sole proprietor of "waves" and "wavy." (Because Max B was indeed known for using the term fluently.)
G/O Media may get a commission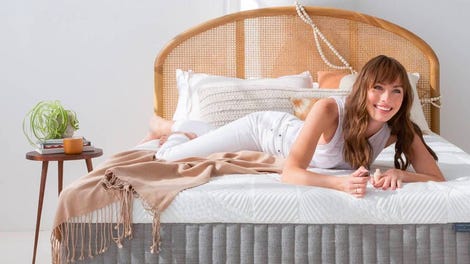 Sleep Sale
Sleep Sale - Brentwood Home
Wiz also tweeted "Hit this kk and become yourself." That apparently had nothing to do with Kim Kardashian, but Kanye thought it did.
West followed up with: "Bro first of all you stole your whole shit from Cudi." And: "Second, your first single was corny as fuck and most there after."
West's remarks prompted a dismissive teen-like response from Wiz, who thinks Kanye isn't even wavy enough to warrant engagement. Basically: Chill, sir, I was talking about weed...
This dudefight about mostly nothing led to what may be Kanye's greatest tweet ever, invoking a Kimoji.
But the best thing about this silly exchange is Kanye's dad-like approach to the matter, which includes helpfully numbering his tweets for the sake of bloggers everywhere.
Kanye should've quit right there because six is a good number. But, as dads do, he continued by trying to demand respect from Wiz. PEAK DAD:
In his attempt at a chronological ether, West took aim at the way Wiz dresses and unnecessarily low-blowed, bringing Amber Rose and Khalifa's child into the mix.
This can actually best be described as dad-child behavior.
And there is where Kanye ended it, ending with a polite, formal address to "Mr Waves."
UPDATE: West deleted his tweets and is instead promoting positivity: "I love the world bottom line and all I want is peace and positive energy," he wrote. And: "I'm happy that I now know that KK means weed… please excuse the confusion … now back to #WAVES."
Too late, though. Amber Rose responded.
---
Contact the author at clover.hope@jezebel.com.
Images via Getty