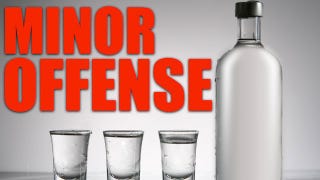 A British judged has ruled that a 30-year-old teaching assistant who had sex with her friend's 15-year-old son shouldn't go to jail because the boy hit on her first and wasn't "corrupted" by the experience. There are so few times that the double standard benefits ladies — does one of them really have to be totally horrifying?
According to The Daily Mail, Leah Davies of Manchester was given only a 12-month suspended sentence and a two-year supervision order for giving the boy vodka and having sex with him in his living room after his mother went to sleep. And that wasn't the first time their relationship took a sexual turn. In 2009 she kissed the boy, who is now 16-years-old, and on another occasion she "performed a sex act on him."
Judge Martin Rudland said he was letting Davies off easy because she's just an "ordinary, decent, hard-working woman who made a tragic and foolish mistake." Yes, who among us hasn't accidentally made repeated sexual advances toward a minor? As for the victim, the judge said:
There have been cases in which the power in a relationship has been imbalanced, with the younger person having less. But that's not the case here.

The complainant, if he can be described as such, was a gregarious young man who played in a band and was sexually experienced.

The experience was short-lived and required no coercion. He touched you first. He was not seduced or corrupted by the experience.
You may have missed when having sex with underage kids who play in bands was legalized, probably because it never happened. Though it's unclear from the judge's ruling, sex with minors is illegal in the U.K. The age of consent in England and Wales is 16, and the Sexual Offences Act 2003 also notes that if an adult is in a "position of trust" over a person under the age of 18, they can't have a sexual relationship.
Davies wasn't the boy's teacher, but clearly since she was an adult friend of his mother's there was an unequal balance of power in their relationship (plus he was definitely below the age of consent). Articles about the case provoked some predictable comments from dudes who say they wish they'd had a teacher Davies, and "young girls should be protected more than fifteen year old boys." Surprisingly, the law doesn't contain an exception for sleeping with boys who think the song "Hot For Teacher" is totally awesome. Even if people think teen boys are unfazed by sex with a grown woman (which definitely isn't true), having the court declare, as Judge Rudland did, that it doesn't count as sexual assault if the minor is "attention-seeking" sets a horrible precedent for all statutory rape cases.
Teacher Who Had Sex With Schoolboy, 15, Is Spared Jail After Judge Says: 'He Touched You First' [Daily Mail]
Sexual Offences Act 2003 [Legislation.gov.uk]
Image via stishok/Shutterstock.