Aw, comedians who care! Or so was the premise of last night's "Night of Too Many Stars," the Comedy Central-backed benefit show which brought the big names in funny together to help children with autism. Only some of these pros brought the hotness however. (See Tina Fey at left.) But the men — Kelsey Grammer, Matthew Broderick, and even Robert Kennedy, Jr — all looked bloated in both face and ego. Thank goodness Jonah Hill was there to make up for it! The full Good, Bad and Ugly of "Night of Too Many Stars", after the jump.
The Good:
Will Arnett and Amy Poehler: Please adopt me.
G/O Media may get a commission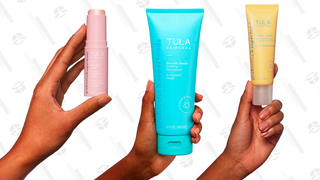 Go ahead and call me crazy, but I think this is a great look for Rosie O.
Aw, Susan Sarandon.
Jonah Hill never fails to make me feel all warm and fuzzy inside.
Susie Essman's dress proves that funny always triumphs over fashion.
The Bad:
Eh, take that back. See: Kelsey Grammar and his scary-looking wife Camille.
Dear Sarah Silverman: 1) I'm over you. 2) Get a new outfit.
The Ugly:
Can someone tell me when Matthew Broderick morphed into a puffy alien?
Um, yeah same for Robert Kennedy, Jr.
And Maroon 5, whose egos are bloated.
[Images via Bauer-Griffin.]