"These champions [who stand against violence] need and deserve our support. Not with a box of band aids, but with a comprehensive well-funded approach that acknowledges that women's rights are human rights." Nicole Kidman's message for Washington: Pass the I-VAWA.
Yesterday afternoon, the Oscar-winning actress took to Congress to lobby for the International Violence Against Women Act (I-VAWA). Representing UNIFEM, she aimed her testimony at women who need the world's support while standing up against atrocities:
I learned from Marie that she was a survivor of violence, forced by her father into an abusive marriage as a young adult. She fled after her first pregnancy, and found support to further her education through a religious organization. Confronted with the cruel impact on women and girls from the continuing conflict in the DRC-where rape is used systematically as a tactic of war-Marie took action. She started an organization to help victims of violence, mostly widows and orphans, many affected by HIV/AIDS. Over the years she's built a national network of NGOs to care for survivors and empower women. With the Trust Fund grant, her group expanded services to include medical care, counseling, legal and economic support. Marie fully understands the need for a comprehensive approach.

Another time in Kosovo, I met and listened to women sharing experiences. One told me how she had been repeatedly raped and abused by soldiers leaving her with lasting physical and psychological scars, and pregnant. In her community, this child brands her forever as an outcast. Yet, she did not remain silent. Together with other women's rights advocates, she bravely took her testimony of how mass rapes shatter lives and communities to the International Tribunal for Yugoslavia, a legal landmark for prosecuting rape in wartime as a crime against humanity. These champions need and deserve our support. Not with a box of band aids, but with a comprehensive well-funded approach that acknowledges that women's rights are human rights.

It is time for policies that intentionally involve society's key communities-from health and education departments, to the police and judiciary-to deliver on that commitment. The plan must build strong alliances with men and collaborate with faith-based and traditional leaders. To succeed, it requires political will at the highest levels.
In addition to speaking on international current events, Kidman candidly answered a question posed about Hollywood.
Nicole Kidman conceded Wednesday that Hollywood has probably contributed to violence against women by portraying them as weak sex objects.

The Oscar-winning actress said she is not interested in those kinds of demeaning roles, adding that the movie industry also has made an effort to contribute to solutions for ending the violence.
G/O Media may get a commission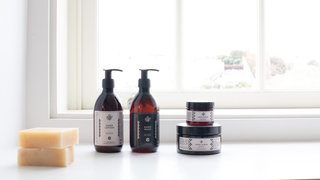 Exfoliate and Hydrate
The Handmade Soap Company
Indeed, Kidman has set an example in the industry with the roles she accepts, portraying a long line of interesting women. She's stepped into the skin of Virigina Woolf in The Hours, a good woman with a hard secret in Dogville, an unapologetic career woman in The Stepford Wives, and the wicked Mrs. Coulter in The Golden Compass. Her upcoming roles, including that of a glamorous movie star in the musical Nine, show more of Kidman's talents, with nary a hooker, victim, or doormat in sight.
"International Violence Against Women: Stories And Solutions" (PDF) [House Committee on Foreign Affairs]
International Violence Against Women Act [Amnesty International USA]
Kidman: Hollywood Probably Contributes To Violence [AP]