The number of exclamation marks I'd like to use in reaction to this story is probably more than my editor Kate Dries would prefer, but let's just see how many I can get away with: Oh my god, Nicole!!!!!!!!!!!!!!!!!!!!!!!!!!!!!!!!!!!!!!!!!!!

In an interview with Red magazine, trembling autumnal leaf Nicole Kidman was asked about her decade-long marriage to anxious thetan Tom Cruise, and gave an unusually revealing response. "I was so young when I got married," she said. "I look back now and I'm like, 'What?'" Ahh!
Though she goes on to suggest the "What?" had more to do with her age and not the man she chose to wed, there's enough in there to convince me her comment was at least partly directed at Cruise. You know, like, "What? I married a man who believes in Xenu?" or "What? I married a man and saw his penis exactly twice?" or "What? I was married to someone named Tom Cruise for 11 years? Doesn't ring a bell."
Here's the rest of her quote:
"You look at Taylor Swift, I mean how old is she? She's 26. I had two kids by the time I was 27 and I'd been married for four years. But that's what I wanted."
G/O Media may get a commission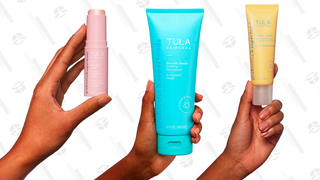 This reminds me of my favorite line from Kidman's "73 Things" video. When asked how she was "feeling these days," she responded, "Honestly? Pretty raw. I've been through a lot."
[People]
---
No doubt influenced by his own actions earlier this week (and once again proving this isn't a great way to resolve anything), Blac Chyna posted Rob Kardashian's phone number on Twitter on Thursday night, and later "revealed it was to make sure that Kardashian...would not be texting any other women."
If I wrote Dirt Bag in iMessage, this blurb would be the following headline sandwiched by eyeroll emojis—210 on top, and 210 below:
The harder these two try to shock us with their relationship troubles, the less compelling their relationship becomes. What a shame.
[People]
---
Here's our favorite Instagrammer Britney Spears doing an English accent while lusting after a handsome Londoner.

---