Nicki Minaj and Safaree Samuels, her boyfriend of 1,000 secret years, have broken up and are fighting publicly on social media. In response to many calling him "corny" and Nicki agreeing… on Twitter, Samuels aka "Scaff Beezy" aka "SB Stunts" aka "Nicki's hype man" told his side of their story, while wearing a fur vest that she possibly bought him. Awkward.
In SB's—how he'd like to be addressed these days—Power 105's Breakfast Club interview, hosts Angela Yee, DJ Envy and Charlamange played as understanding as possible while asking him nearly everything I've ever wanted to know about their relationship, including "Did you get an allowance?" Real questions need real answers, people. Here are the highlights:
— SB didn't necessarily break up with Nicki but he says he left their home first. His wording of this exchange sounds like the relationship was over for awhile before either of them made a serious move to officially call it quits.
"I'm not bitter because if I wanted to make it work, I could've. … You can't put a price on peace of mind."
— When asked why they broke up, SB said "everyone around her works for her" and that became a problem.
— He was fine that they'd broken up but her discussing his "corniness" with comedian Lil' Duval on Twitter was the final straw.
G/O Media may get a commission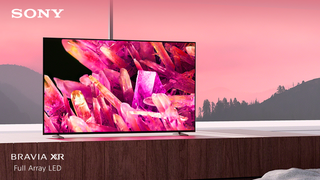 $400 off
Sony 55 Inch 4K Ultra HD TV X90K Series
— He confirms what Nicki said during an earlier interview that the couple would've been married with kids by now if it wasn't for the pressures of the entertainment industry.
"To publicly try to pull me down? Yo, you getting ridiculous, when all I've done is uplift you public and putting tattoos of your face all over my body and showing the world I don't care. I think you're the most amazing person at what you do. I would say that to her, when it was just me and her and I would say that on a stage in front of 20,000 people, 'Make some noise for the best female rapper alive.' "
— According to him, she started the social media subtweet and blatant tweet war.
"She could get married and be pregnant tomorrow and I'd wish her nothing but the best but when you try to pull me down and discredit what I've done for you? That's what's weak to me."
— He says he helped her with her rhymes, which are fighting words because she's been vocal about writing her own bars.
"Don't say that 'Oh, I don't have no talent' because every time it came to her writing raps and doing music, it was me her and a beat. She doesn't do it by herself, it's me and her."
When Charlamange dug in on whether Scaf was saying he was Nicki's co-writer saying "She didn't write 100 percent herself?" the MC's ex gave a non-answer answer by drinking water and smacking his lips.
— On whether he's still receiving money from her or looking to legally pursue unpaid profits for what he feels is his contribution to Nicki's career (read: sue her for publishing rights on her albums):
"What's fair is fair, you can't take away for … things that I've contributed, you know. as far as that, I'm not out here worrying about how I'ma get my next meal."
— A pointed moment arose during his answer to a question about whether he's spending "Nicki's money" that spoke to something I've been wondering for years, whether he and Nicki had a violent relationship, stemming from the couple's 2011 altercation in a Dallas hotel room.
"I been through a lot growing up, I used to see my moms get beat by my pops every single night … dragged by her hair and I would have to watch that. So I just got numb to all [those rumors about whether I'm a kept man], so when people try to 'She's gonna take back your cars' or 'She's gonna kick you out' ... yo, everything that I have, we got together. So if I say I'm gonna go buy something, I bought it with my money."
Because this interview tackled nearly everything I'd want to ask, DJ Envy brought up that night in Dallas and asked Samuels directly if he struck Minaj.
"Nah, hell no, I would never hit her."
There's plenty more where this came from—the interview is rife with inside information about their relationship, which just seems to get sadder by the day. Oh, and Scaf introduced Nicki to Philadelphia MC Meek Mill, who is rumored to be Nicki's new boo, let Instagram tell it. Maybe we'll see her dealing with their breakup a la Katy Perry's Part Of Me documentary during Minaj's My Time AGAIN mini-doc airing on MTV this weekend (I still wish they'd thought of a better title).
Important Update:
Image via Getty.