Nicki Minaj is committed to the long game in her feud with Remy Ma. Late last night, Nicki released three songs in response to her enemy and wrote a screed on Instagram explaining her approach. After Remy surprised us in late February with her caustic diss record "ShETHER," Nicki waited and watched as Remy self-destructed with a second, extremely lesser song, "Another One." Remy then spent part of an interview backtracking on her initial diss ("I don't regret it, but I'm not particularly proud of it," she told BuzzFeed's Another Round podcast, about "ShETHER"), all of which left an opportune opening for Nicki to slide in with what she's good at: marketing.
Rather than a full-length diss track, Nicki released three simple singles primed for airplay, "No Fraud," "Regret in Your Tears" and "Changed It," two of which feature Drake and Lil Wayne, and paired it with an explanation of her strategy, thus forcing people to credit her tactic as much as the material itself. As she explained in her Instagram post: "Diss records can't be lies. Great diss records are FACTS. But here @ Young Money, we don't do diss records, we drop HIT RECORDS & diss u ON them...Queens don't move on peasant time." Nicki also challenged Remy to release a response track within 72 hours and offered up $500,000 if she could book an interview where she doesn't mention Nicki.
Nicki's strategy is quite a savvy copout that presents a challenge for anyone expecting her to go as hard as Remy, but Nicki must be aware that trying to match bars would be a losing game. (Relatedly, one of the publicists in Jezebel's post a week ago about this subject was on point in suggesting, re: Nicki, "Her response just needs to be outlandish and over the top... pulling Remy into an area where she has less reach will give her an edge.") And so, there's no endless succession of hurtful threats on Nicki's songs; instead, she calls Remy her son and belittles her with the aid of AutoTune in a few lines, which includes a claim that Nicki has "before and after pictures" of Remy's surgery (recall that Remy called out Nicki on "ShETHER" for alleged butt implants)."
On "No Frauds," the catchiest of the three tracks, Nicki raps:
"Tried to drop 'Another One,' you was itchin' to scrap/ You exposed your ghostwriter, now you wish it was scrapped/ Heard your pussy on yuck, I guess you needed a Pap/ What type of bum bitch shoot a friend over a rap?/ What type of mother leave her one son over a stack?"
G/O Media may get a commission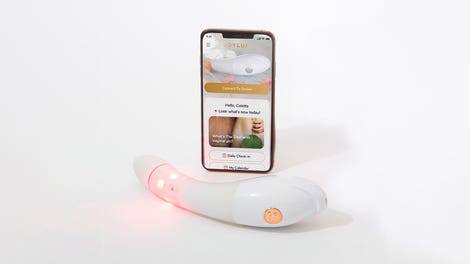 $50 Off
Joylux vFit Gold Device
On "Changed It," she raps:
"MJ to the teens/ I am Billy Jean and the bitch is my son/ I'm doing it for fun, I am the first number, tell them bitches I won/ This hoe getting slick, so I put on gym shoes and extended my run/ MJ, Game 6, Jackson, Tyson."
"That's it?" is an accurate response to these songs (embedded below). Two of them are solid jams ("No Frauds" and "Changed It"), but none are as vicious as Remy's attack. Nicki wants us to think that's irrelevant. Making commercial ear-worms is her strength. If only Remy hadn't released "Another One" and if only Nicki had responded sooner with something more fiery, well, that would be a different game that Nicki doesn't want to play.