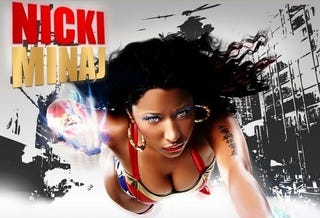 Rapper Nicki Minaj catapulted to popularity in a matter of months, going from virtual unknown to appearing on tracks alongside Mariah Carey and Ludacris. Sadly, the shelf life for women in the hip-hop limelight is less than two years.
Slate's Jonah Weiner takes a cursory glance at Nicki Minaj, looking at the artist's penchant for slipping in and out of various personas from track to track. Indeed, Minaj slips in and out of various personas. While her trademark style is high femme meets hip-hop (one of her monikers is Nikki the Harajuku Barbie), she also morphs, Lady Gaga-style, from video to video.
She takes the doll imagery to new heights starring with Mariah Carey (another quick change artist):
And reinterprets A Nightmare on Elmstreet while riding a track with Luda:

Ludacris - My Chick Bad
Uploaded by UniversalMusicGroup. - See the latest featured music videos.
Weiner theorizes that the relative absence of women in the hip hop space allows Minaj freedom to play with her identity, as well as produce incongruous narratives about her life and aims.
The history of female MCs who have made a dent on the culture is woefully thin, but Minaj turns this seeming disadvantage into an asset: She treats the relative absence in hip-hop of strong (and strongly defined) female voices as though it were an inviting blank canvas, not an oppressive void, and she hops from persona to persona with a license we can hardly imagine a mainstream male rapper enjoying.
Minaj does this with aplomb, but she embraces many of the conventions of hip hop culture. The first one - dissing your rivals - she turns into a cornerstone of her performances and mixtapes.
But Minaj has to deal with something male artists do not - the requirement to present as both sexy and sexual in order to enjoy mainstream success. Historically, women rappers had a lot more latitude with the images they could present.
The shift occurred around the time Lil Kim's Hard Core dropped, complete with a promotional poster that became so iconic, Nicki Minaj chose to emulate it thirteen years later for the cover of Minaj's Sucka Free mixtape.
In the period immediately following the release of Hard Core, a new standard emerged for women stepping into the rap arena - alongside lyrical skills, a woman had to also present herself as appealing to the male gaze. Before, rappers like MC Lyte and Queen Latifah dressed in similar gear as their male counterparts preferring the focus to be on their skills and not their physical assets. Even mainstream acts like Salt-N-Pepa and TLC flipped their images often, appearing in belly baring tops and thigh high shorts in one video, and Cross Colors in the next. (And, interestingly enough, there was also the presence of male eye candy in videos from this era, which has sharply declined in the late nineties and the 00s.) Sexiness was an option, it was not an imperative.
Minaj, like Foxy Brown, Trina, and Lil Kim, has been able to trade on her looks and sexuality to garner a nod from the mainstream space. Searching for "Nicki Manaj" on Google reveals some interesting trends. While her lyrics currently reside in the number two spot, the fourth most searched term is "Nicki Minaj booty" and the ninth term is "Nicki Minaji nasty pics."
In an interview with Vlad.Tv, Minaj denies putting sex before her lyrical skills, but does acknowledge that she wants to switch from being known for her her sex appeal to being known for her music:
Sadly, I'm not sure Manaji will be able to shed her initial sex bomb image so easily. The male saturated genre has increasingly marginalized female emcees that are not willing to conform to video model standards of beauty, and has perpetuated a cycle ensuring that for every hyped release there is a harder fall. Nicki Minaj is currently rap's it girl, but her fame will only last as long as she can hold this attention. Or, as Sut Jhally would say, as long as she follows along with the conventions of the hip hop dreamworld:
Unless Nicki can find a way to circumvent the current norms that restrict women in rap, she's destined to join the ranks of all the women who came before her: permanently resigned to the margins.

Who's That Girl? [Slate]
Dreamworlds 3: Desire, Sex & Power in Music Video [Sut Jhalley.com]