Today in horrible, depressing news of how terrible people can be: Australia's Next Top Model judge, anti-bullying campaigner, television presenter, and former model Charlotte Dawson has been hospitalized in Sydney following an apparent suicide attempt that came after weeks of vicious bullying on Twitter. Speaking out against cyber-bullying in the media ironically made Dawson the target of an organized campaign of online harassment. Think hundreds of daily Twitter @ replies like:
@MsCharlotteD please put your face into a toaster. #diecharlotte
@MsCharlotteD FREEDOM OF SPEECH YOU FUCKING BIMBO GO KILL YOURSELF #9GAG #LE9GAGARMY #LELEGGION
@MsCharlotteD Please do the world a favor go hang yourself.#diecharlotte
@MsCharlotteD Go kill yourself you fucking Whore. #diecharlotte
@MsCharlotteD on behalf of the world would you please go and hang yourself
@MsCharlotteD Kill yourself you putrid piece of shit. 9gag never forgives!
@MsCharlotteD Should hang herself. Bitched already caused enough trouble and doesn't deserve that much fame #cocksuckingbitches
And that is just a selection from the past 24 hours. Trolls sent Dawson grotesque photographs of dead bodies and mocked her for her for not having children. The numerous references to 9gag — a meme-sharing Web site that 4chan users have in the past sought to blame for their own trolling — suggests this campaign may have originated on 4chan. (That's the same site that once tormented the parents of a 14-year-old boy who committed suicide with prank phone calls for a year and a half and turned a photo of his headstone into a meme.)

The abuse reached a peak after Dawson used publicly available information to contact one of her most persistent trolls, who turned out to be an employee of Melbourne's Monash University named Tanya Heti. Heti wrote a series of abusive Tweets directed at Dawson and any follower who defended her, repeatedly telling Dawson to "go hang yourself." Heti even identified a Dawson defender whose fiancé had committed suicide and Tweeted at her, "If I was your fiance I'd hang myself too #gohangyourself." Heti had made her work contact information available online, and Monash has reportedly suspended her with pay pending an investigation.
In the wake of the Heti incident the abuse only got uglier. Late last night in Sydney, Dawson Tweeted, "Hope this ends the misery .." and "You win."
Emergency services were called to her home and Dawson was admitted to hospital for observation. Her condition is unknown.
G/O Media may get a commission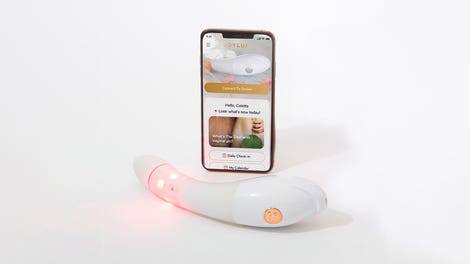 $50 Off
Joylux vFit Gold Device
The minister of police for the state of New South Wales says he thinks that the kind of bullying Dawson faced may be legally actionable, if any of the senders were, like Heti, located in Australia:
[P]olice minister Mike Gallacher said he wanted the trolls "dragged out of their mother's basement and put before a court" following the Twitter attacks on the Australia's Next Top Model host.

"These are sick minds we're dealing with," he said yesterday. "I'd be interested to see if they're still tough guys when they're in handcuffs." [...]

Mr Gallacher said that "even a cursory examination of the comments made to Ms Dawson overnight reveals they are clearly offensive to a reasonable person, which is the test for any prosecution under Section 474.17 of the Commonwealth Criminal Code Act".

That section refers to use of a "carriage service" to menace, harass or offend, with a maximum three-year jail term.

University of Technology Sydney communications law expert Michael Fraser said those who attacked Dawson had committed criminal acts.

"The online world is not above the law," Professor Fraser said.
---
Kim Kardashian and Old Navy have settled the lawsuit over the retailer's use of Kardashian lookalike Melissa Molinaro in an ad. Kardashian had alleged that Molinaro's casting was intended to confuse customers into thinking she endorsed the chain; Old Navy countered by arguing that Kardashian's endorsement would have been worthless, anyway. Terms of the settlement were not disclosed. [WWD]
---
Yoko Ono may have collaborated with Swarovski on a line of key-themed jewelry — keys have been a motif in her art work since the 1960s — but that doesn't mean she approves of the fashion industry's materialism. "Consumerism is promoted by the industry," says Ono. "But creative young people don't neccesarily buy things off the rack." [Telegraph]
---
If you're half as into leatherwork as we are, you'll probably find this video of someone making a Mulberry bag mesmerizing (even despite the Lana Del Ray soundtrack). [YouTube]
---
Designer Scott Sternberg shot Josh Brolin (on Polaroid, like always) for the latest Band of Outsiders campaign. [TDB]
---
The new issue of Garage magazine has one cover by Juergen Teller featuring Rosse de Palma and the oldest tree in the world, a second by Nick Knight featuring Lindsey Wixson in a Roy Lichtenstein-inspired setting with text captions by Perez Hilton, a third featuring a new work by John Currin, and a fourth by Elmgreen and Dragset (not pictured). [Jezebel Inbox]
---
Terry Richardson took some photos of Lady Gaga wearing a black feathered cloak outside a Chanel store in Finland yesterday, as you do. [ONTD]
---
Alice Temperley tapped Lily Donaldson and her real-life sister Aurelia for this video for the brand's John Lewis line, Somerset. [YouTube]
---
Suno launched a sneaker collection. The shoes are manufactured in Kenya, where co-creative director Max Osterweis grew up, and the soles are made from recycled rubber. Some of the proceeds will go to a Kenyan rhino and elephant sanctuary. [Fashionista]
---
You tell 'em, André Leon Talley. The Vogue editor and keen political observer didn't like the Twitter uproar that greeted Condoleezza Rice last night when she had the temerity to take the floor at the Republican National Convention with...lipstick on her teeth. Then Talley resumed Tweeting about the many factual errors in Paul Ryan's speech. [@OfficialALT]
---
To give you an idea just how calculated campaign clothing decisions are, Ann Romney's R.N.C. Oscar de la Renta dress was chosen in consultation with both Mitt Romney and senior campaign strategist Stuart Stevens. [Politico]
From de la Renta's pre-fall 2012 collection, the exact retail price of the dress is unknown. But the Financial Times notes that similar dresses from the designer cost between $2,090 and $2,490. [FT]
---
Now that Sally Singer is out at T, tongues are wagging about potential replacements. Names named in this piece are Deborah Needleman, the former Domino editor and current editor of T competitor WSJ., Stuart Emmrich of the Times Styles section, and GQ deputy editor Michael Hainey. Needleman, reached for comment, says she is happy in her current job. [WWD]

Katie Holmes reportedly marked her divorce from noted short man Tom Cruise by buying 15 pairs of Christian Louboutin heels. [Vogue UK]

Colombian-born designer Esteban Cortazar — best known at age 28 for quitting his job as the creative director of Emanuel Ungaro rather than work with Lindsay Lohan, who was disastrously hired as a co-designer at the house in 2009 — is debuting a namesake collection at New York fashion week. Cortazar partnered with Net-A-Porter on the line, and it will be available for sale exclusively at the e-tailer. Both parties are careful to stress that this is not a limited-edition collaboration or a side project: it's Net-A-Porter taking an active role in the relaunch of the Esteban Cortazar brand. This is the first time Net-A-Porter has entered those waters. Interesting. [WWD]

Stylist Brad Goreski announced on Twitter that his reality show, It's A Brad Brad World, has been renewed for a second season by Bravo. Meanwhile, the fate of his former boss Rachel Zoe's Bravo reality show remains uncertain. [@MrBradGoreski]

Speaking of fashion reality shows, Tim Gunn says that the editing in last week's episode of Project Runway — in which the contestants had to dress non-models, and a designer named Ven Budhu made his plus-size client cry (how Jeffrey-vs.-Angela's-Mom) — was actually very kind to Budhu. "Can I tell you the editing on the show is kind to everyone?" says Gunn. "It was especially kind to him. He was especially atrocious." Gunn also says that he thinks the men's wear challenges are historically the show's ugliest, and warns that there's a men's wear challenge coming up later this season and it "will not disappoint in terms of horrible." [Racked]

Extravagant dresser and lovely human being Michelle Harper is most often described as a "socialite" in newspaper copy — but it turns out that she's actually the co-founder of a cosmetics holding company, CB LLC. Reports The Cut:

The company deals mostly in the dry business of buying and selling intellectual properties owned by various beauty corporations; they also own a few small cosmetic brands, including CRC Lab NYC, a line of thinning haircare products they helped create in 2007, and Darac's own makeup line, Darac Beauty, founded in 2009. Harper also does brand consulting for cosmetic businesses, but declines to name any of her clients due to nondisclosure contracts.

Says Harper, when asked how people should refer to her, "I work very hard in finance, and I don't look like it. If you want to say financier who dresses like a cuckoo bird? Whatever, I get my job done." [The Cut]

J. Crew had a good quarter: profits hit $22 million, up from the $10.5 million loss it posted one year ago due to costs incurred during its acquisition by two private-equity firms. Total revenues rose 21%, to $525.5 million, and same-store sales were up by a robust 14%. [WWD]

So did Salvatore Ferragamo: during the quarter just ended, its net profits rose 22.5% year-on-year, to $72.1 million. Sales were up by 22.9%. [WWD]

And now, a moment with Florence Welch. Florence, how did Karl Lagerfeld get you to descend onto the runway in a giant clam shell for the finale of the spring Chanel show?

"We were talking afterwards and he was telling me about this whole underwater theme for his show and said: 'Wouldn't it be amazing if you came down from the ceiling, floating, at my show?' Then we totally brainstormed the whole thing and, to be honest, I didn't really know what he was talking about. The next day, we got a call from his people and that was it. He's one of those people who thinks things into being."

[Vogue UK]