A recent post on ONTD begins, "This is exactly what you think it is: Miley's sista." Right. The taller one with the darker hair is Noah "Noie" Cyrus. On a red carpet. In a swimsuit. Noie was born June 14, 1999. She is nine. The caption on these photos reads:
"Noah Lindsey Cyrus & Emily Grace Reaves, with Emily's dog Bunny, pose for the cameras at Brittany Curran's Retro 50's Poolside Bash on Saturday, May 30 in Burbank sporting Juicy Couture vintage bathing suits. The two friends filmed an episode of their Noei and Ems Show at the party. So pretty!"
The birthday girl in question — Ms. Curran, an actress — is 19 years old. Why were an eight-year-old and a nine-year-old photographed in swimsuits going to her party? Clearly the goal is to get Noie and Emily — who have their own show on YouTube — publicity, visibility, a fan following and press in the tween mags. (And, as a former editor at a tween mag, I'm sure it worked.) The photo credit on these images is someone named Terri Tex, who happens to be Emily's publicist. (Emily, who was in Hannah Montana: The Movie also has a foundation to promote.) But are there dangers in exposing these young'uns to magazines and gossip websites so early? Here are some comments from ONTD and the source site, Ocean Up:
The observant:
lol i don't even wear that much eyeliner. creeptastic.
The rage-y:
WHY ARE THOSE CHILDREN POSING LIKE THAT?!?!

Also, GET THAT RED BULL OUT OF THAT CHILD'S MOUTH.

JESUS FUCKING CHRIST PEOPLE, BE PARENTS TO YOUR CHILDREN.
The living-in-denial:
are these little girls wearing makeup and carrying handbags? seriously? is this a fucking joke?
The apathetic:
what the fuck is this shit, seriously, no one cares about a couple of 7 year olds that will be jaded as fuck in 4 years
G/O Media may get a commission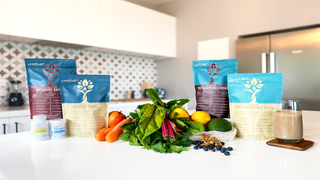 The (possibly) creepy:
woah noahs gonna have mileys gooorgeous long legs
The cruel:
the girl on the right has faT THIES.
when they grow up theyre gonna be so stuck up and probs sluts. no offense yeah yeah i know their only like 7 but im just stating the facts
The concerned:
That's disgusting, who lets a nine-year-old wear that much make-up and parade around in a bathing suit while posing like she's on the cover of Sports Illustrated? The only people who would appreciate these pictures are the idiots who put their kids in beauty pageants and pedophiles. Take the red bull away from that girl and send these two to play in the kiddie pool like NORMAL nine-years-olds! I have a nine year old daughter of my own and I just find this sad, thank goodness my child isn't growing up in L.A.
Ah, yes, thank goodness. Because every child who lives in L.A. is required to walk the red carpet barely dressed!
This Is Exactly What You Think It Is ... ISH MILEY'S SISTA [ONTD]
Noah Cyrus AND Emily Grace Reaves JUICY COUTURE Bathing BEAUTIES [Ocean Up]