Did you hear? Tattoos are totes no big deal now! Even neck tattoos are becoming less edgy, New York Times wants you to know, as televised stars like Prodge Run's Jeffery Sebelia brought an etched neck to the soccer mom set. We were already aware that tattoos have lost their taboo status because the Times keeps telling us. Over and over and over and over again. They want to make sure we know that moms and dads and heartbroken doctors and heartbroken writers and even the Jews are getting inked. After the jump, some passages from these "taboo" busting articles that show, once and for all, that getting a tattoo is about as transgressive as eating a donut (think of the transfats!).From today's Tattoos Gain Even More Visibility:
"Watching a show like Project Runway, where the guy who won Season 3 had his son's name tattooed on his neck," Ms. Handelman added, referring to Jeffrey Sebelia, "I was, like, 'Whoa.' It wasn't a prison tattoo. It wasn't sailors or criminals. It was this real-life person that you saw being creative and successful, and it really affected your perception about who gets tattooed."
From September 14, 2008, With This Tattoo, I Thee Wed:
"We live in a heavily inked Brooklyn neighborhood, but I'd never seen a wedding ring tattoo. I liked the dare. If we actually made it to the altar, I said, I would… My spouse was shocked, but pleased. One of my daughters hated it, the other at least pretended not to. There was clearly one bit of genius in that — nothing makes a tattoo as unappealing to a teenager as seeing her father get one."
From July 27, 2008, The Breakups That Got Under My Skin:
"Maybe some girls would fear their parents' reaction to such an act, but my mother had actually gone down this road before me and gotten a tattoo just a decade earlier, when I was 10. In fact, she had taken me along. I watched as a heavyset bearded man in a clean white T-shirt pressed the buzzing needle into her backside. I studied her face, concerned by her wincing. Afterward she showed it to me: a lavender iris, her favorite flower. It was a delicate thing, placed where no one but she and a lover would see."
G/O Media may get a commission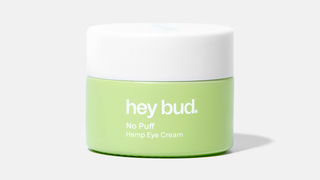 15% off
Hey Bud - No Puff Hemp Eye Cream
From July 17, 2008, For Some Jews, It Only Sounds Like 'Taboo':
Nicki Carnes and her sister, Rebecca, who now also has a tattoo, say that being permanently marked was just something they wanted. Others say they were tattooed to rebel or, surprisingly, that they wanted a Jewish tattoo as a way of connecting with their religious and cultural identity…Todd Weinberger, the creative director of Inked Magazine, grew up in a family that kept kosher, and recently got his first tattoo with his girlfriend, Jennifer Goldstein, an editor at CosmoGirl magazine.
From May 18, 2008, Ink-Stained and Loving It:
It's hard to look authentically rebellious or menacing these days, when even well-behaved businessmen wear earrings and ponytails and college students destined for quiet suburban lives have body piercings and tattoos…Tattoos, in particular, are not the radical brandings, the bold violations of flesh and propriety, they once were.
Also from May 18, 2008, Under My Skin:
"I was at sea from a breakup, and the former beloved happened to live next door. You are probably supposed to get a tattoo removed at the end of a relationship, get that name in the heart erased or changed to signify something else — Ken to Kenya, Olivia to Bolivia. But somehow this great unpleasant change in my life made me feel as if it was the right time to get the tattoo done."
From November 22, 2007, Etched in Mommy's Heart and Now (Ouch!) on Her Ankle:
"I'd always thought of tattoos as something biker chicks got, not something I would get," said Ms. Scarborough, a neonatal nurse. But she changed her mind after she and her husband adopted Daniel, who was born four months premature; the tattoo is of his footprints. "I wanted something to symbolize my connection with him and what we went through," she said.
So there you have it, people. Tattoos = officially uncool. You're probably going to have to pierce your butt cheeks together to piss your mom off now. Thanks, New York Times, for clearing that up for us! Tattoos Gain Even More Visibility With This Tattoo, I Thee Wed The Breakups That Got Under My Skin For Some Jews, It Only Sounds Like 'Taboo' Ink-Stained and Loving It Etched in Mommy's Heart and Now (Ouch!) on Her Ankle [All NYT]