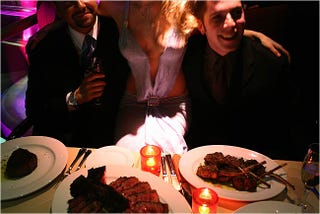 We're not sure what to make of the recent spate of mainstream food critics giving the thumbs up to the food at Manhattan mammary meccas (preceding term stolen from Page Six). First, New York Magazine's Gael Greene gave a nicely-manicured thumbs up to Hawaiian Tropic Zone, singling out its veal chop as "splendid" and its banana split as "sensational". We're willing to forgive Gael: she's kinda eccentric in a bawdy, been-there, done-that sort of way and after all, with Mario Batali and Danny Meyer running most of the city's restaurants, it's kind of admirable for her to offer a critical take on a Times Square tourist magnet.
Then the Times came out. Today's lead restaurant review has Frank Bruni visiting the Penthouse Executive Club...for its food. For those of you (blessedly) living outside of New York, the "Penthouse" in the name refers to, yes, Penthouse Magazine. Nor is there anything remotely "Executive" about the place (it's on the far west side of the city, near the Hudson River — not in some swanky midtown office tower) other than the fact that well-dressed male execs go there. However, according to Frank, the club's restaurant, Robert's Steakhouse, is deserving of one star (not bad for a Times review) for its steaks, which are "some of the very best...in New York City".
At Robert's Steakhouse I got char, richness, depth and a more pronounced degree of aging, an unmistakable tanginess that accentuated and stretched out the beef's flavor.
But that's not all! There are strippers named Indica and Brianna...and Dr. Foxy! Oh, and a crazy-ass dessert that's sinful in more ways than one.
It's called a buttery nipple, and it involves one of the women straddling your lap, tilting your head back, pouring a combination of Baileys Irish Cream and butterscotch schnapps down your throat, and squirting Reddi-wip into your mouth. It costs $20 in cash.
Carole J. Adams must be shitting her pants.
Where Only The Salad Is Properly Dressed [NY Times]

Hawaiian Tropic Zone[NY Mag]

The Pornography of Meat