Tricia Walsh-Smith, the playwright and soon-to-be-ex-wife of theater executive Philip Smith who posted a tearful, angry rant about her divorce on YouTube, isn't the only divorcée talking about her plight on the 'net. Today's New York Times discusses the pitfalls of broadcasting a breakup for the world to see, profiling Laurie, a Manhattan lawyer who produces a podcast called DivorcingDaze and was sued by her ex-husband for telling the world he "was having an affair with his boss from e-mail on his BlackBerry." A New York State court decided that, though Laurie's podcasts were "ill-advised and do not promote co-parenting," Laurie had a first-amendment right to continue Daze.
Legal ramifications notwithstanding, it seems that the potential for collateral damage to children is a good reason for divorcing couples to keep their dirty laundry for margarita-laden dinners and phone conversations with friends. But blogger Penelope Trunk, author of the Brazen Careerist blog, defends the notion of mothers talking smack about their ex-husbands online. Trunk, who has written a lot about the demise of her 15-year marriage on her blog, tells the Times: "The bloggers who are doing the best are those who are injecting their personal lives. We think it will be a big deal, but it won't be to [our children]. By the time they are old enough to read it, they will have spent their entire life online. It will be like, 'Oh yeah, I expected that.' "
Child psychiatrist Irene Goldenberg disagrees with Trunk's assessment. "It is not good for children to get personal information in that way. And people have to consider doing things in the heat of the moment. The way they feel now will not be how they feel in two years, and there is no way it can be retrieved."
I had dinner with a acquaintance last night who likened his parents divorce to breaking a bone: it's so common, you think it can't be all that big a deal so you never realize how much it's going to hurt until it happens to you. With so much possibility for pain in the immediate aftermath of a divorce, is it really worth potentially breaking that bone years after it's healed for the sake of your freedom of expression?

G/O Media may get a commission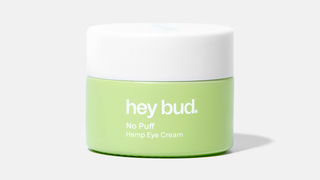 15% off
Hey Bud - No Puff Hemp Eye Cream
[Image via Broadway World]
When The Ex Blogs, The Dirtiest Laundry Is Aired [NY Times]
Earlier: Why Marrying A Rich Old Dude Who Won't Fuck Will Not Solve Your Problems