It's already hard for tech entrepreneurs to convince investors that a canine dating service, let's just say, that matches like-tempered dogs on play dates would be awesome, and that they're just the sort of visionaries to make such a company profitable. Investors don't just throw money away most of the time — they consider if an idea is marketable and if its progenitor is capable, which is why it's a big deal that new mothers are starting to break into the tech start-up racket and change an industry-wide perception women can't raise a family and a start-up at the same time.
The New York Times on Saturday featured an article about a small but growing group of women proving that it's possible to raise kids and run companies simultaneously. The dichotomy between career and family life doesn't have to be completely soul-rending, and women like Jennifer Fleiss, Carley Roney, and Divya Gugnani (all three of who have recently scored big successes with their start-ups in spite of their newborns) demonstrate to wary investors that a founder's pregnancy should by no means be a dealbreaker when it comes to funding a new start-up.
According to Roney, who co-founded the XO Group (currently valued at $300 million) while raising three kids, venture capitalists definitely consider a female entrepreneur's pregnancy a factor in deciding whether to invest in a firm, even if they publicly aver that they do not. Since much of the investment world remains cluttered with pinstripe-draped penises, many investors are skeptical about pairing the high-octane jobs of running a start-up and taking care of a tiny human that will seemingly go to extraordinary lengths to threaten its own well-being. With women only accounting for 10 percent of the founders of "high-growth tech companies" and typically raising 70 percent less money than do their male counterparts, tech investment already skews heavily male, a fact that helps entrench prejudices about what sort of workload a new mother is capable of taking on.
Such prejudices have been clearly and apologetically articulated by investors such as tech-angel Paige Craig, who told Business Insider last year, "I'm probably going to get myself in a bit of trouble here...a pregnant founder/C.E.O. is going to fail her company." Though Paige acknowledged that he was prepared to be convinced that his presentiments were misguided, his reluctance to invest in a start-up helmed by a pregnant woman illustrates a broader misconception in venture capital that women can't juggle kids and a time-devouring new venture. Successful start-ups like Jessica Herrin's $100 million-in-revenue-per-year Stella and Dot may prove otherwise (Herrin, 39, is the mother of two young daughters), but Roney's nod to "closed door" conferences among predominantly male VCs reveals that it's extremely difficult to change perception.
Besides, though the success of entrepreneurs like Roney and Herrin definitely helps pave the way for any woman to break into tech at any level, the Times acknowledges that these women, no matter how much they bend their busy schedules, all have the individual financial resources to hire childcare help, a resource that many of them say is essential. Their daily routines are grueling even without the added responsibility of raising kids and it probably takes a particularly driven person to adhere to such a rigorous schedule. Even Herrin, who balanced a new business venture with motherhood, says, "I can't say I recommend this life for a new mom," mostly because, no matter how great a balance she achieves, she'll still have to cut into the time spent with her newborn.
G/O Media may get a commission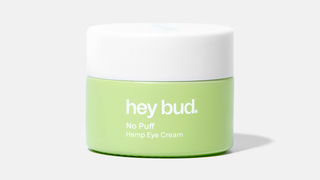 15% off
Hey Bud - No Puff Hemp Eye Cream
Nurturing a Baby and a Start-Up Business [NY Times]
Image via Diego Cervo/Shutterstock.