New Mexico Governor Susana Martinez has announced a slightly weird new initiative, one that seeks to publicly Twitter-shame both repeat drunk driving offenders and the judges who sentence them.
The Associated Press reports that Martinez announced a new partnership between Mothers Against Drunk Driving and the state, where MADD will be paid to monitor court hearings by judges deemed too lenient with DUI cases:
The group will send details about sentences to state officials, who will identify repeat offenders and the judges in tweets.

The program joins others nationwide in using social media to publicize crimes by repeat offenders, a move that has drawn scrutiny from privacy advocates. But it's unusual to target judges, and opponents have called it unethical.
(Update, 4:40: MADD clarifies that they'll be "randomly" sitting in on court cases; a press release from the governor's office says that it will focus on courtrooms in five counties— Bernalillo, Dona Ana, McKinley, Rio Arriba, and San Juan—known to have high drunk driving rates.)
The state ACLU office sounds like they're not quite sure what to make of the program yet, but one defense attorney called it wrong-headed and sort of odd. From the AP:
The American Civil Liberties Union of New Mexico was reviewing the new program, spokesman Micah McCoy said.

Democratic state Rep. Antonio "Moe" Maestas called it a public relations stunt, saying it takes the focus off DUI prevention and tries to put the blame on judges and prosecutors.

"Blaming a judge for not enough conviction rates is like blaming (a baseball) umpire for not enough strikeouts," said Maestas, a defense lawyer who represents clients charged in drunken driving cases and has worked as a prosecutor.
G/O Media may get a commission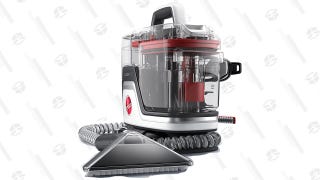 Save $10
Hoover CleanSlate Plus Carpet & Upholstery Cleaner
All this is also just slightly ironic, because back in December, Martinez had a fairly embarrassing public episode, when 911 audio showed that she appeared "inebriated" at her holiday party, as the Associated Press put it, and tried to make police responding to a noise complaint go away. She also pressured the 911 dispatcher to tell her who had made the complaint, and when they refused, said, "I'll get it from the cops." At the time, Martinez was already publicly pushing a set of harsh new anti-drunk driving measures.
But that's not to say that DWIs in New Mexico (my home state) don't represent a particularly devastating problem; the state leads the nation in alcohol-related deaths overall. There's been a number of well-publicized incidents of repeat DWI offenders killing people: In 2009, in a particularly horrible incident, four teenagers died in a crash on Santa Fe's Old Las Vegas Highway. The other driver, 28-year-old Scott Owens, was acquitted at trial despite admitting having been intoxicated (the defense successfully argued it couldn't be proven that he'd caused the collision). Owens was arrested again for DWI in 2012 and in February of this year. The Albuquerque Journal reports that during his latest arrest, a responding officer greeted him with a casual, "How's it going, Scott?" One man, Jacob Williams, has been convicted in two fatal drunk driving cases; the second person he killed was the brother of the judge who sentenced him in the first offense.
But drunk driving deaths in the state reached a 36-year low this year, after Martinez and state lawmakers took some more concrete steps than Twitter-shaming: in February, the legislature state lawmakers approved legislation with harsher penalties for repeat DWI offenders. The bills were proposed by House Republicans, and opposed by some Democratic legislators who argued that maybe it'd be a good idea to set aside more money for alcohol treatment and rehabilitation.
Disclosure: My mother was a New Mexico state employee during Martinez's tenure as governor.
Susana Martinz. Photo via AP