According to the latest report from the CDC, U.S. abortions fell by five percent during the recession and its aftermath, a phenomenon that most likely, insist some researchers, owing to the greater diligence with which women use contraception during tough economic times. Though many states have unfortunately and aggressively restricted access to abortion in recent years, those changes have not had time enough to factor into the abortion decline, since the CDC report was based on data gathered between 2007 and 2009 and states have only started adopting restrictive abortion legislation in the last two years.
Experts such as Duke University assistant professor in public policy and economics Elizabeth Ananat told the AP that the recession most likely led many women to believe that they simply couldn't afford to get pregnant. "They stick to the straight and narrow," explained Ananat, "...and they are more careful about birth control." Speculation that the abortion decline owes itself to more widespread contraception use is corroborated by a similar report earlier this year that found that rates of teen pregnancy are also on the decline, most likely thanks to the recession.
The reporting of abortion numbers state-by-state is voluntary, though most states do share their numbers with the CDC. A notable (and data skewing) exception is California, which boasts both the largest population and the largest number of abortion providers. Though the CDC estimates that there are about a million abortions in the U.S. each year, the organization counted only 789,000 in 2009 due to "incomplete reporting." In order to generate reliable year-to-year comparisons, the CDC used abortion data from 43 states and two cities, each of which have been sending in consistent numbers for the last ten years.
Some notable trends in the CDC report: the majority of abortions are performed by the eighth week of pregnancy; white women had the lowest abortion rate, about 8.5 per 1,000, while black women had abortions at a rate nearly four times that, and Hispanic women had a rate of about 19 per 1,000; 85 percent of women who received abortions were unmarried; New York has the highest abortion rate, while Mississippi had the lowest; and the CDC identified 12 abortion-related deaths in 2009. Researchers also attributed the abortion decline, more specifically, to the fact that, according to a report from the Guttmacher Institute earlier this year, more women seem to be using IUDs, which essentially eliminates all the more common "user-errors" associated with other forms of contraception.
G/O Media may get a commission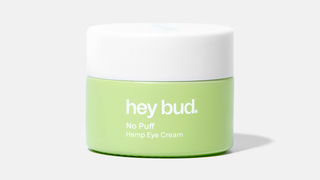 15% off
Hey Bud - No Puff Hemp Eye Cream
US abortions fall 5 pct, biggest drop in a decade [AP via Yahoo!]