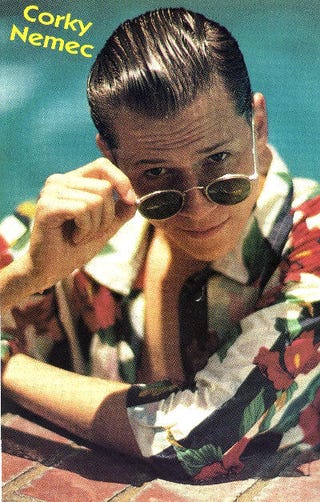 Neil Strauss, the The Game author who introduced the world to Mystery and who we can also probably blame for Paul Janka, will soon be dispensing dating tips on MySpace TV with the aid of Corin "Corky" Nemec of Parker Lewis Can't Lose and David Faustino of Married With Children. But since such two iconic figures as Faustino and Nemec obviously don't need the help of a 5'5" bald writer dude in elevator shoes to get chicks, Neil presents them with obstacles to illustrate the pickup power of his tricks. As he explains in his statement:
After watching David Faustino get actual phone numbers with, for example, his identity concealed, his hands tied, and his mouth duct-taped, no guy should ever have to fear approaching a woman under normal circumstances again.
Oh Jesus, they concealed identities here?
So instead of watching the interactions of two eighties TV stars and the desperate Los Angeles women who throw themselves at them, we'll be watching two guys who just happen to resemble long-forgotten eighties TV stars and the women who throw themselves at them, then try to rescind their overtures when they discover it's a case of "mistaken identity," who meanwhile have totally dated themselves on-camera by responding to guys who look like Bud Bundy and Parker Lewis? Did you think there was something that could be more painful than reality television? You clearly forgot about MySpace.
MySpace Teams Up With Neil Strauss [International Herald Tribune]