Today is shaping up to be pretty bad for fans of Tina Fey and Amy Poehler (aka everyone). It seems NBC will give 30 Rock one final shortened season and then it will be kaput. But it also looks very much like Parks and Recreation and Community will be given abbreviated "send off" seasons and then will also be killed dead, leaving all of us to pound our fists on the floor and whine-cry, "Whyyyy?"
Apparently, NBC wants to go in a new direction with its primetime programming. Can't say this is a bad idea as a general rule, since weeknights have been in a bit of bottomless pit for them, ratings-wise. But when you apply it specifically to 30 Rock, Parks and Rec and Community, suddenly it seems like a truly terrible idea. There's been no official NBC word regarding any of this, but sources have confirmed the news about 30 Rock and also revealed that Parenthood has been renewed (thank GOD). As for Parks and Rec and Community, the rumors are swirling mightily, but it does not look to be a 100 percent done deal yet. Let's keep our fingers crossed so hard they turn blue that this will not come to pass. [THR, Opposing Views]
Update: Community has now been confirmed as renewed for a fourth season of 13 episodes—the same so-called abbreviated season that 30 Rock got. Still no word on whether it will be a farewell season or just a short one followed by more. [Deadline]
---
G/O Media may get a commission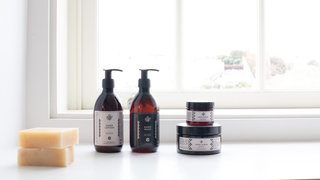 Exfoliate and Hydrate
The Handmade Soap Company
When it comes to the relationship between Rihanna and Chris Brown, the drama never seems to take a vacation, but today something monumental happened: Rihanna unfollowed Chris on Twitter. Snap. The apparent cause of the rift is this line from a freestyle version of Kanye West's "Way Too Cold" that Brown released last night:
Don't f—k with my old bitch/It's like a bad fur/Every industry n—-a done had her/Shook the tree like a pumpkin just to smash her/Bitch is breaking codes, but I'm the password.
Naturally, some people assumed he was referring to Rihanna, and it seems like maybe RiRi thought the same thing since she hit the unfollow button without delay. Not content to be left with an unrequited follow, Chris Brown then unfollowed her. He also tweeted: "Assumptions! I didn't say any names so if u took offense to it then it's something you feel guilty about." Make of it what you will, but at least we'll now be spared having to parse the meaning of their Twitter interactions. [E!]
---
Zoe Saldana has a little something to say on the topic of diversity in magazines:
I never like to get political, but when you have the ability, through your media, to influence a large mass of people I would want to be a part of the evolving cycle of progress vs. keeping things the way that they are. I think that I speak for a lot of us, Americans, that I would want to see a little more diversity.
Agreed, agreed, and agreed. [HuffPo]
---
Michael Fassbender will no doubt make a few enemies from having said this about Los Angeles:
I've met some cool people out there who say I haven't found the right LA, but I just prefer here. I think LA makes you soft — people never get anything done. It's a city where people give out their business cards. I think London has a sense of humour. I like the parks, I like the mentality here. I like walking. I like the immediacy of the city.
Boy, it's really too bad he's so afraid to say what he really thinks. [Celebitchy]
---
Bad news for those of you who have tickets to upcoming Blink-182 shows. Travis Barker had have an emergency tonsillectomy. I was not aware that tonsillectomies could even be urgent, but you learn something new every day. His recovery is expected to take a while, so the band has had to reschedule all of its May tour dates. Get well soon, Trav-dawg. [E!]
---