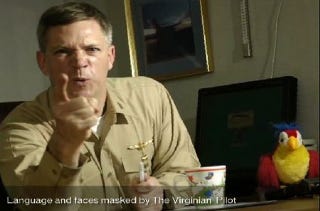 A Naval officer has drawn fire for offensive (and dumb) videos in which he attempted to amuse his crew with homophobic slurs, fake masturbation, and a stuffed parrot.
According to the Virginian-Pilot, Owen Honors, then executive officer of the aircraft carrier USS Enterprise and now its captain, created the videos in 2006-07. Near the beginning of the clip below, Honors says, "I've gotten several complaints about inappropriate materials in these videos, never to me personally but, gutlessly, through other channels" and that "bleeding hearts" will likely be offended by what follows. He's right that the footage is offensive. Over at Gawker, Adrian Chen offers another warning: "they are boring."
The Navy is planning to investigate the production of the videos, but some of Honors's subordinates defend him. On the Facebook group We Support Captain O. P. Honors!, one wrote,
What he said and did was no worse then half of the movies we watch regularly. I challenge evryone who opposes these videos to look at their inventory. I guaruntee they all have enjoyed an Adam Sandler movie, a Seth Roegen movie, or a Ben Stiller movie. All he ever did was pick up the average age of his sailors and display humor that the group could enjoy.
However, there's a difference between simply screening a Hollywood film and creating your own — the latter implies that Honors personally endorsed all the content, including repeated use of the word "fag." The Virginian-Pilot also points out that Honors was investing significant time and Navy resources into the videos, "even as the Enterprise was simultaneously supporting wars in Iraq and Afghanistan and its air wing was dropping record numbers of bombs." It notes in particular his technique of "record[ing] different takes in which he played the different roles, and then superimpos[ing] the takes over each other, allowing himself to appear on screen as two or three people at once." Though another post on the Facebook page says of Honors, "those deployments were made tolerable by his antics," the videos apparently drew many complaints, especially from female sailors. So why did Honors keep making and showing them? Says his former videographer, "In his defense, I'll say that sometimes, when you've been out to sea for a while, cut off from everything, you start to think things that you would never normally do are actually a good idea. You do stupid stuff to stay sane."
Raunchy Videos Starring Enterprise Skipper Come To Light [Virginian-Pilot]
Navy To Probe Controversial Carrier Videos [Reuters]
Aircraft Carrier Officer In Trouble For Making Raunchy Lesbian Shower Videos [Gawker]